CEO of Ghana Investment promotion centre, GIPC, Mr R.Yofi Grant is confident of Massive Business Growth in Ghana.
According to the CEO of GIPC Mr Yofi Grant, he remains confident the African continent can develop into a global business hub in the near future starting from Ghana.
The revered banker with 30 years experience in banking and finance tipped Ghana to be the focal Marketing centre in the next 5 years after taking over the CEO slot of GIPC.
Having served across several banking platforms in the past three decades, Mr Yofi Grant did not mince words in highlighting the plans of his outfit towards rebranding the GIPC.
Speaking to the media on his plans for the GIPC, Mr Yofi explained the plans he has for the media engulfed investment promotion centre.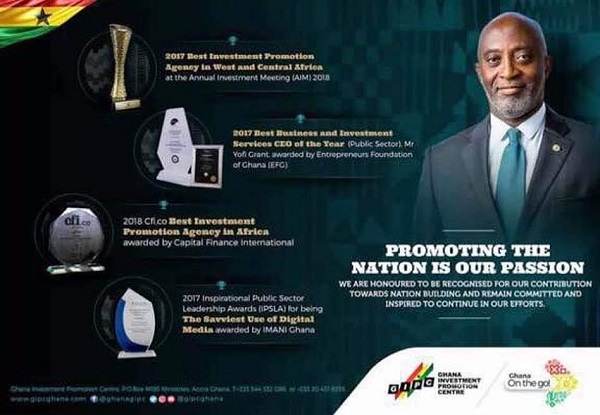 According to him, "I think Ghana in 5 years will be very interesting. It will be very interesting and a country very opened for business, a country that will embrace investment from all over the world that will support its business people to grow and create jobs over the country ".
READ ALSO: GIPC wins IPSLA Award for effective use of Digital Media
"We are already a great country but I believe once we can put these foundational issues in place, we will have an even more interesting country. Ghana is already among the best investors counties in the world," R. Yofi Grant optioned.
The Seasoned financial expect has already won four awards with the Ghana Investment promotion centre in just 2 years as the CEO of the outfit.
During his spell as the CEO, Ghana Investment promotion centre has been adjudged as the Best Investment Promotion Agency in Africa 2018, IMANI Inspirational Public Sector Leadership Awards as best in Digital use, Best Project award in West and Central Africa and the Best Investment Promotion as awarded by Capital Finance International.
Mr R. Yofi Grant was awarded the 2017 Best Business Investment Services CEO in the Public Sector.