Castro was declared missing after taking a jet ski on which he carried a lady identified as Janet Bandu, towards the Ada Estuary, where the two were believed to have drowned. 
Castro, born Theophilus Tagoe, who has been missing for more than 3 years is alive, according to Prophet Cosmos Walker Affran.
The Founder and Leader of the Cosmos Affran Ministries said, the "Seihor" hitmaker is alive but afraid to return to Ghana, Modern Ghana reports.
Though Castro is still declared missing, many Ghanaians have given up on him returning by resigning to the fact that he had died.
But the Founder and Leader of the Cosmos Affran Ministries, Prophet Cosmos Walker Affran has stated in an interview with Kofi TV that, the Hiplife star Castro is not dead.
Prophet Affran went on to claim Castro was now living in a West African country and will return one day, he said.
Few days after the Prophet's declaration, a Photo of Castro went viral on social media in a pose with sensational Ghanaian Gospel artiste Jay Peacock in Australia.
Jay Peacock, who is noted with the hit song Spiritual Commando, shared the Photo together with Castro on his Facebook page and wrote:
"Is Anything too hard for God? Your Miracle is on the way".
Jay Peacock's post sparked controversy on Facebook as many keep asking whether Castro is hiding at his house in Australia.
The 'Spiritual Commando' hitmaker; Jay Peacock is yet to confirm whether he knows the whereabouts of Castro proved unproductive.
Castro, a stalwart in the Ghana music scene, went missing at Ada on July 6, 2014.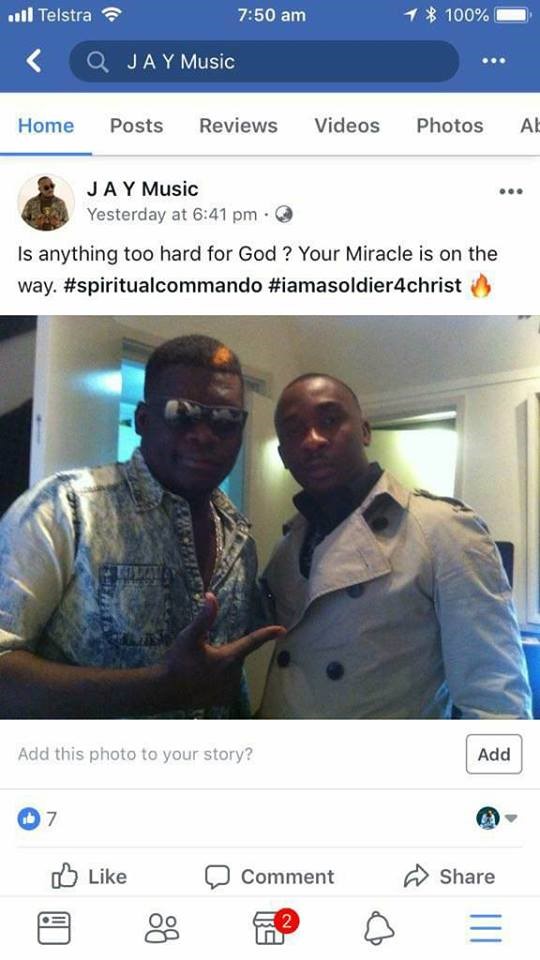 Ghana News: Latest Gossip in Ghana on Prime News Ghana