Former President and flagbearer of the NDC, John Mahama has written a lovely message to celebrate the birthday of his wife Lordina Mahama.
Celebrating her birthday with Ghana on March 6, John Mahama in a Facebook post said, "You are my world, Lordina."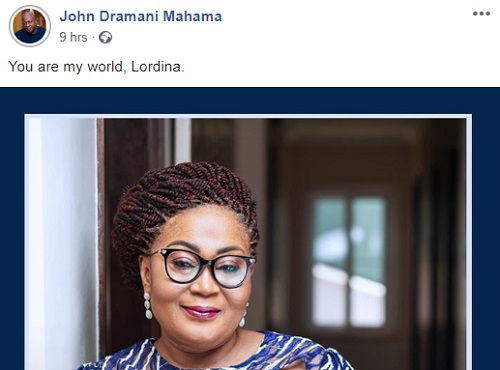 About Lordina Mahama
Lordina Mahama is a Ghanaian stateswoman. She was born Lordina Effah on March 6, 1963 by the late Mr. and Mrs. Effah. Lordina is from Jema-Ampoma in the Nkoranza District, located in the Brong-Ahafo Region of Ghana.
She is last of three kids. She had her initial training in Tamale, Ghana at the Tishigu Anglican elementary school.
 
She then proceeded to the Ghana Secondary School in Tamale, where she finished her GCE education.It was at Ghana Secondary School that Lordina met her better half, John Dramani Mahama, interestingly.
Lordina Mahama Career
Mrs.Lordina's significant enthusiasm for enterprise and the culinary business drove her to consider for a declaration in Catering at the Flair Catering Services and a four-year college education in Hospitality Management at the Ghana Institute of Management and Public Administration (GIMPA).
Lordina's ability to consistently consolidate numerous parts in the meantime had basic influence as she effectively arranged her family and political obligations as the spouse of a sitting President. This multitasking aptitudes additionally empowered her to concentrate on for a MA in Governance and Leadership at the Ghana Institute of Management and Public Administration (GIMPA) once again. Mrs Lordina is currently undergoing a study in LLM in Business Law/International Business Law program at the De Montfort University, Leicester, United Kingdom showing her will and enthusiast attitude to know more and study further to fulfill her duties as the first lady and NGO.
Lordina Mahama Political Appointments

She became second lady when her husband the former President of the Republic of Ghana John Dramani Mahama became the Vice-President of Ghana to President John Evans Atta-Mills on 7 January 2009.
Lordina Mahama As First lady
In line with Ghana's constitution, her husband became President of Ghana on 24 July 2012 on the death of his predecessor, John Atta Mills and was sworn in Parliament in July, 2012, automatically making her the First Lady of the Republic of Ghana.
Lordina Mahama Personal Life
She is married to the 4th President of the Fourth Republic and current out-gone President of Ghana, John Dramani Mahama. Prior to becoming First Lady, Lordina Mahama's husband served as a member of the Parliament of Ghana representing the Bole/Bamboi constituency during the 2000s.