Rising music star and Northern Ghana's pride, Fancy Gadam noted for packing events grounds thanks to his appeal, on Sunday, November 6 made history in Ghana's capital, Accra.
It's a tall order even for Accra based artiste to fill the National Theater but Gadam, President of the Gadam Nation in a show which could have made or broke the incursion of North Region based artistes to the Southern Ghana market, emerged the victor when he not only managed to draw in hundreds of fans and observers to fill the theater but also rendered a stellar performance.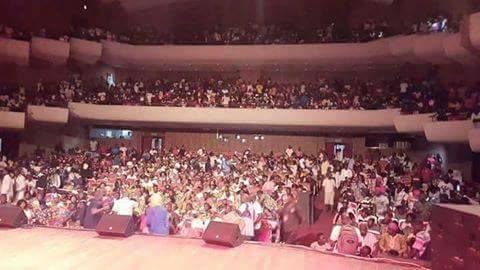 With attendees flashing their mini lights and Gadam effortlessly and consistently being showered with money on stage, the night was sure to linger in people's memory for long.
Ahead of the November 6 gig, Gadam had come to national consciousness when he together with Stonebwoy put up an impressive show at the Tamale Stadium and had dominated Northern Ghana's entertainment scene for some time such that a lot was hedged on the success on the Accra show.
Gadam explained to arts and media enthusiast, Mr. Bilz also hailing from Northern Ghana that "we decided to put together in Accra a show for the fan base in South" adding he was eternally grateful to Allah for the success."
Gadam also used the opportunity to apologize to fans who were denied entry to the National Theatre because of space limitations stating since this was his first major show, they needed to test the waters first but with the successful show, the stadium will be in the plans next time around.