Rapper Nana Afrane Okese popularly known as Okese 1 has descended heavily on the host of Hitz FM Morning show Andy Dosty.
This was after Andy Dosty sacked the musician from his studio when he had come for an interview.
According to reports, the sack was as a result of the musician turning up 40 minutes late for the interview.
READ ALSO: Video: Andy Dosty angrily sacks Okese 1 from Hitz FM studio
The renowned radio presenter lost his cool following what he described as rudeness from the 'Yie Yie' composer.
After he walked out of the studio, Okesse 1 took to social media to react to the incident.
He wrote:"He is such a big old fool… I've lost So much respect for this GUY… @andydostygh your propaganda set against me will never work… I HAVE GOD☝🏼🙏I just unfollowed you.. and also @hitz1039fm y'all should know how to deal with such an arrogant PIG 🐷 I MIGHT SUE U FOR THIS TRUST ME."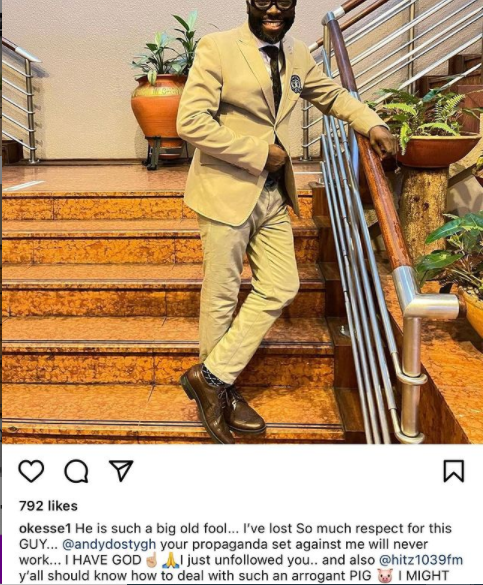 He continued in another post.
"If we talk about humility I know I'm very humble and I respect people .. @andydostygh I created my own company in California when I was 20… I do music for my fans and Ghana and I'm in to put in my all.. I've paused everything to come to your show only to find out you have connived with people to sabotage my career …. I'm blessed man can never bring me down …. OKESE1 is here to stay and it's for life "
This act by Andy Dosty has generated a lot of talk and many have criticised the experience radio host for not handling the situation well.