Like most people, John Mayer uses social media to share his innermost thoughts. This time, Mayer revealed one intimate detail that spawned an unexpected reply from rapper, Nicki Minaj.
Mayer harmlessly filled his one million Twitter followers in on the fact that he's had a longstanding crush on the Pinkprint rapper.
Although he didn't '@' Nicki directly, she still caught wind of his tweet and used one of his biggest hits in her witty response; leaving the crooner at a loss for words.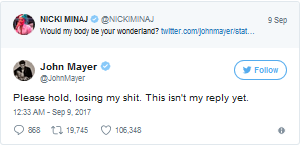 While he tried to collect himself, Twitter users quickly joined in on the conversation sharing their opinions on John Mayer unexpectedly shooting his shot.
Much to the dismay of antsy Twitter followers waiting for a comeback, John Mayer has yet to issue a follow up.
If his initial response to Nicki Minaj's tweet was any indication, it's clear that the Twitterverse will be in for something special.