Roverman Production's lastest play "God you're fired" revealed how we as humans think evil of each other.
"God, you're fired" talks about a recurring phenomenon in the Ghanaian community, at the workplace, homes and especially in the church where most people have evil thoughts of their colleagues.
The opening scene of "God, you're fired" was a church where Peter peters and Mercedes are rehearsing for their wedding ceremony with the Pastor.
Everything looks perfect in the church with everybody going about their activities and after the wedding rehearsals Love, a church member and a former friend to Mercedes presented a cake to Peter peters, she was equally interested in Peter Peters and has been praying hard to God to give the man to herself.
During the prayers of Love, Ekow appeared and he is also in love with Love but Love refused to notice him. In the same chapel is Barima who is also having issues with his wife Vera, Barima is impotent which Vera complained about bitterly to the Pastor.
The pastor promise Barima that with fasting and prayers his issues will be solved. Pastors wife Akyiaa came in asking of money in the chapel disgracing the pastor of which some members offered to bail the pastor out.
Akyiaa questions the pastor's prayers to God and that he is still not having enough members and also exposing the pastor of being able to satisfy her. Barima who is impotent also gave back the pastors word to him that with fasting and prayers his issues will be solved.
Left alone in the chapel is the pastor talking of how his prayers are still not being answered and in tears, he said God will lose if he stood for election because most of their prayers are still not being answered and he has fired God.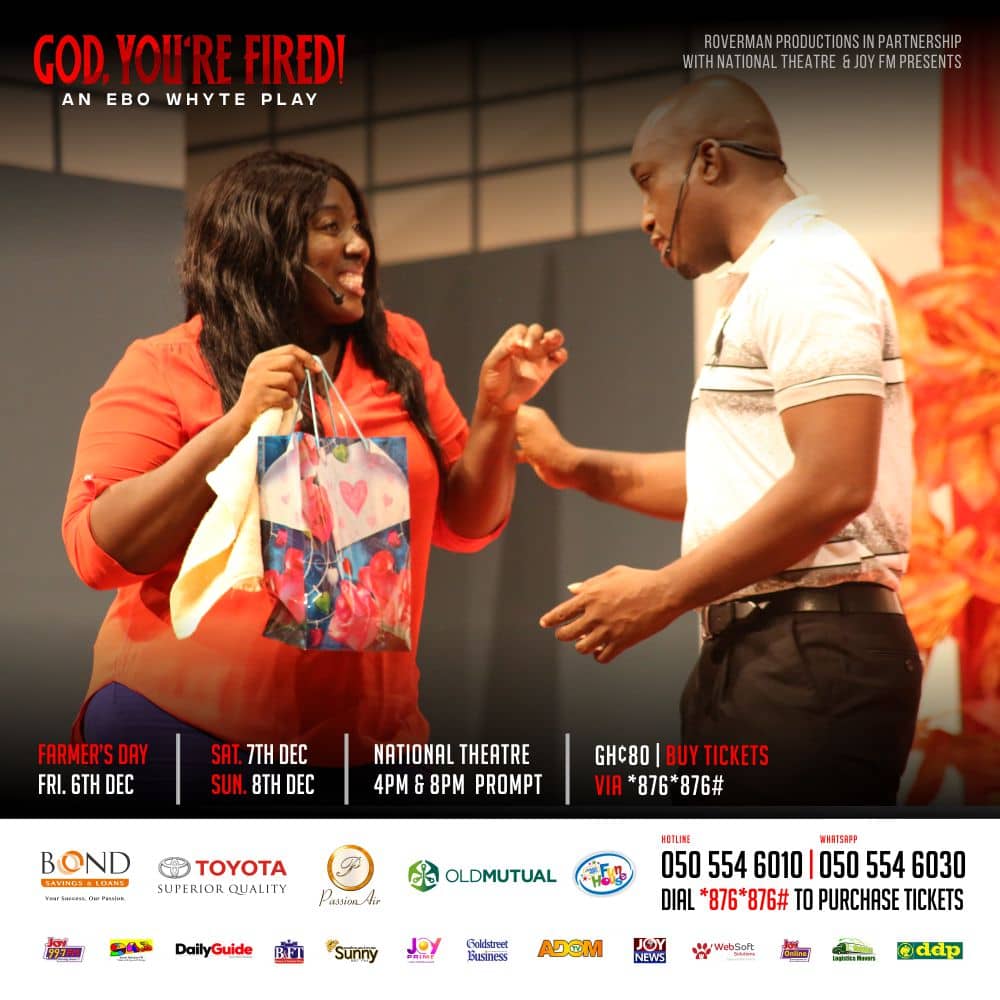 Listening closely is a stranger who draws the attention of the pastor, pastor at this moment tries to explain how he as a pastor can also have some breakdown sometimes. Requestion to know who he was, the Angel started answering questions on the mind of the pastor.
He answered the question of the pastor and told him he is sent to him for him to apologize for his utterances against God.
But the Angel told him he was just kidding and what he did does not even tickle God. The Angel revealed to him that he has been asked to tell him he can change places with God for an hour. The pastor was happy to be God for one hour.
He touts his powers and good he will be as a God, now he is God he wanted to start his works from elsewhere but was asked to start from his church. Listening to prayers he can't stand it and granted it to all his members.
But added that it will be granted to them according to their faith which the prayers were not answered and he waives it off and all prayers were granted. Blind could see, impotent now potent people receiving money on their phones.
The pastor turned God was very happy about his achievement as God and how marvellous his decision was when asked by the Angel. Now he can see and interact with his members, Peter Peters got an accident, the pastor turned God has healed the Accident victim taking away his crotches.  Akyiaa has also changed towards the pastor and treating him well which was an answer to his own prayer.
Now Ekow comes in the shouting about the death of Mercedes, Love's prayer of death for Mercedes has been answered.
Mercedes is woken from the death when the one hour God agreed for Peters to marry after seeing his pain, Love was not happy about it, Ekow has also proposed marriage to Love which the pastor turned God just agreed to.
The Angel the pastor turned God that he will reveal his wife's prayers which have been answered to him, her wife also prayed that her husband should die, of which in the physical realm he was. Now he is refusing to be God after the many revelations of his actions. Everything has now been reversed.
Realising the prayers of his church members the Pastor decided to advise and hold a closing prayer for them and they departed.