Ruftown records signee, Wendy Shay again displayed her erected nipples which some social media users are not happy why she's always trending and making headlines for the wrong reason. 
In a viral photo PrimeNewsGhana spotted on Instagram, Wendy Shay posed for a picture with her erected nipples with radio presenter, DJ Advicer after an interview she granted HappyFM.
The 'Bedroom Commando' hitmaker aside granting an interview decided to give her fans a piece of her melons as she posed for the picture which has generated a lot of buzz on social media.
However, some social media users after the photos went viral have been trolling Wendy Shay for all what they describe as "seeking negative attention".
Check out some social media reactions here: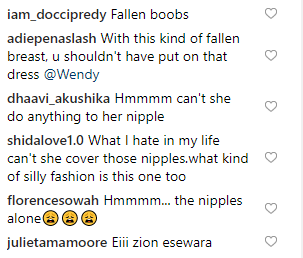 Entertainment news on Prime News Ghana