A brand-new list by the United Nations World Tourism Organization is highlighting rural communities across the globe that are harvesting tourism for good.
For travellers looking for inspiration for their next city break, dozens of best-of lists abound. But for those in search of a slower pace, natural scenery and local traditions, there's a different resource to turn to: the world's best tourism villages, according to the United Nations World Tourism Organization (UNWTO). 
For the past three years, the UNWTO has recognised villages across the world that "are leading the way in nurturing rural areas and preserving landscapes, cultural diversity, local values and culinary traditions", and it has just put out its list for 2023. These 54 villages were selected based on nine different criteria, including how well they are preserving (and showcasing) their natural environment, their commitment to economic and environmental sustainability and their conservation of cultural heritage.
Here, we take a look at five of the most interesting rural villages around the world from the new list.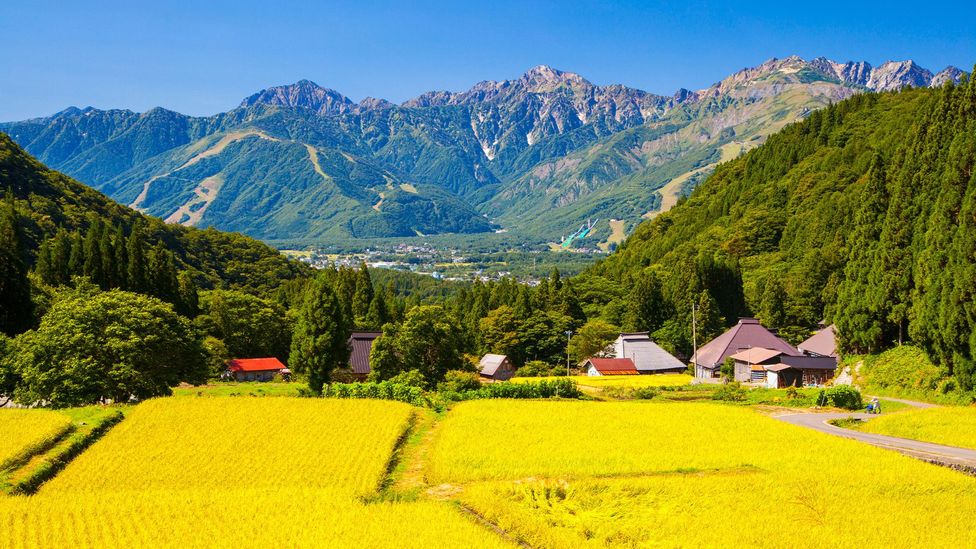 There's a culture of welcoming everyone in the village of Hakuba (Credit: Norikazu Satomi/Alamy)
Hakuba, Japan 
Twenty years ago, Tony Anderson of Melbourne, Australia, came to Hakuba to snowboard. He returned to the village, located in the Japanese Alps about 45km west of Nagano, the next year to buy property – and has lived there ever since.
As a hotelier himself, Anderson says Hakuba's culture of hospitality makes it particularly welcoming for visitors. When he travelled here as a tourist, he remembers going to hotels, only to find them booked up; but rather than being sent away, he was invited to put a futon down in the hallway. Even today, he said, "The policy is never to turn anyone away. Everybody's welcome." 
This tradition of hospitality has likely developed for practical reasons, too: when the snow comes, sometimes blocking in the roads, you can't necessarily leave, even if you wanted to. Of course, that makes for excellent skiing and boarding. Most famously, Hakuba, which is surrounded by 10 different ski resorts, hosted many of the events of the 1998 Nagano Winter Olympics. Even in the spring, when the cherry blossoms bloom, there is still enough snow on the mountains to ski.
While Hakuba may be famous for its winters, it's worth a visit year-round, said Anderson. In the summer, he loves hiking up the mountains to lodges. In the autumn, it is popular with visitors who want to see the autumn foliage. And Hakuba's onsens – hot springs – are popular no matter the season.
"There's not a day that goes by where I don't look up at the mountains and just really appreciate how beautiful this place is," Anderson said.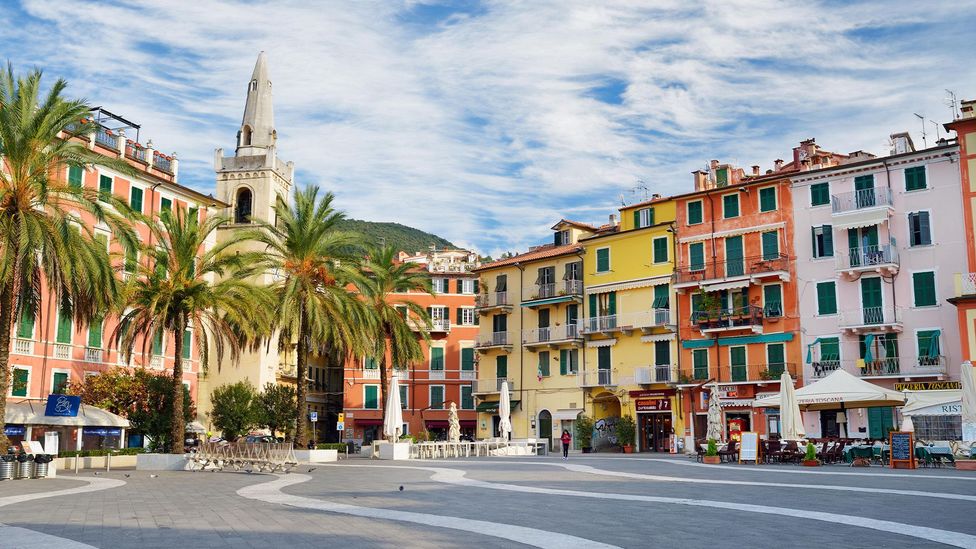 Lerici is a picture-perfect place set in Liguria's north-western Italian Riviera (Credit: Joana Kruse/Alamy)
Lerici, Italy 
Move over, Cinque Terre: for travellers looking for striking sea views, clean beaches and colourful homes, there's another destination to add to the list in the Liguria region. Located on the north-western Italian coast, 100km south of Genoa (or 10km south of La Spezia, a popular travel hub for getting to the Cinque Terre), Lerici isn't exactly a secret. Still, its location – particularly its lack of a train station – means it's been a bit more protected from overtourism than many of its neighbours. 
Dubbed the capital of the "Gulf of Poets", it hosts numerous cultural and artistic festivals, such as the Lerici Music Festival, the Premio Lerici Pea Golfo dei Poeti literary competition, and regular art exhibitions, including at its medieval castle. "Over the centuries, Lerici has welcomed great names in culture, literature and art who have chosen it as a place of inspiration," said Lerici mayor Leonardo Paoletti, including poet Percy Bysshe Shelly, novelist Virginia Woolf and writer and director Pier Paolo Pasolini. "Today this legacy persists."   
Unlike many other coastal Italian enclaves, Lerici also has also kept up its traditional fishing industry. "Lerici has the oldest mussel cultivation in Italy, dating back to the 19th Century," said Paoletti. But locals realise that fishing today means keeping it sustainable: for more than 25 years, Paoletti says, Lerici has "renounced" intensive fishing. Among various sustainability initiatives, the town runs a pilot project called Smart Bay, which includes scientific research and monitoring of the bay and its ecosystems. It's also introduced solar panels, banned single-use plastics and prohibited cigarette smoking in coastal areas.  
The ultimate goal? As the UNWTO puts it, it's to become a destination "that not only captivates with its natural beauty, but also stands as a model for environmental triumph".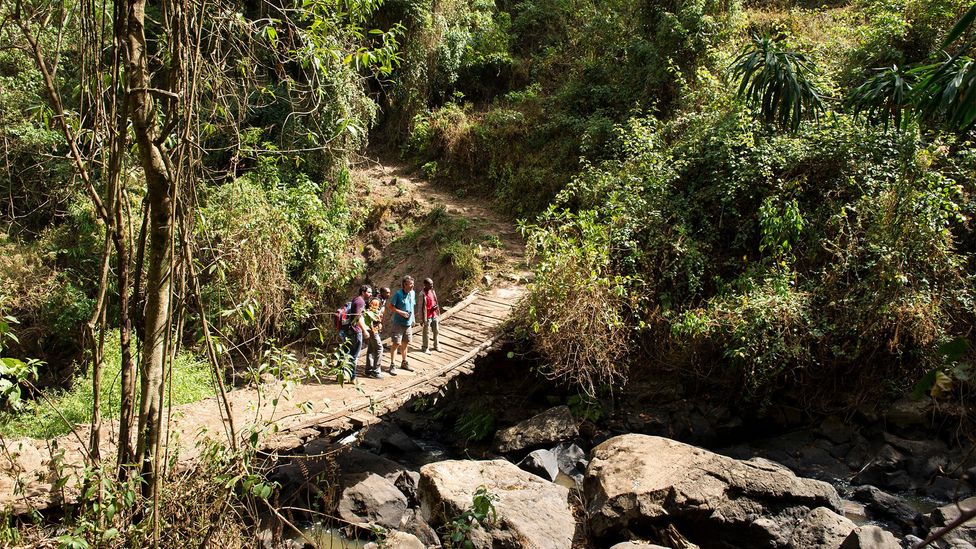 Nestled in the eponymous forest, Lephis is a paradise for trekkers and nature-lovers (Credit: Ariadne Van Zandbergen/Alamy)
Lephis, Ethiopia
For natural beauty and wildlife, it's hard to beat the village of Lephis, located in Lephis Forest, around 160km south of the Ethiopian capital, Addis Ababa. Travellers can trek or horseback ride past the striking Lephis Waterfall and through hills and valleys, catching glimpses of animals including colobus monkeys, leopards and mountain nyala. Birdwatchers are in for a particular treat, with species including the Abyssian oriole and white-cheeked turaco.
"I often go there with tourists to see fauna and flora," said Biruk Chiksa, a tour guide at Venture Ethiopia Tour and Travel. "I love it a lot." And as Chiksa points out, so do foreign travellers.
The forest is home to some 2,000 households, too, many of which are now supported by what's called Lephis Ecotourism Village – a community-based initiative to preserve local heritage and help the community, while encouraging tourism. Visitors can see handicrafts like beaded jewellery and wood carvings being made from local grass and bamboo, thanks to the village's Mishike Handicraft Association, which employs some 17 women and three men.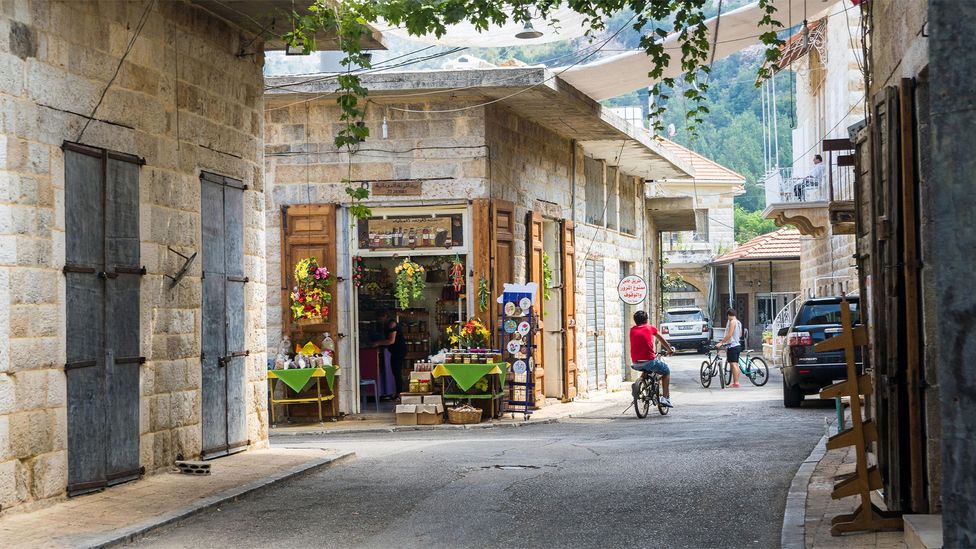 Some say entering Douma feels like "entering a history book" (Credit: Lensleb/Alamy)
Douma, Lebanon 
Traditional stone houses with red-tiled roofs, views of the surrounding Batroun Mountains, centuries-old churches and a recently restored souk: the village of Douma, located about 80km north-east of Beirut, is nothing if not picturesque. 
"My first impression was the beauty of the village," said Rana Tanissa, a Lebanese archaeologist and rural tourism consultant who writes about travel to Lebanon, recalling her first visit to the town. "And the history of the village is incredible – one feels as if you're entering a history book." 
In fact, according to the UNWTO, Douma's commitment to preserving its architectural and cultural heritage and "avoiding chaotic urban expansion" played a major role in its selection to the 2023 list. 
The UNWTO notes that Douma has protected other aspects of its cultural heritage, too, such as its local food traditions. According to Tanissa, the "Raha sweet", made with biscuits, is one favourite, as are the town's zaatar, olive oil, cheeses and jams. Many of the ingredients come from local farms and vineyards. That said, Douma isn't just about tradition: the village has undertaken a number of new green initiatives, too, including using 600 solar panels to generate electricity for the village, planting trees and encouraging composting. 
But more than its beauty, cultural heritage, food or even sustainability, Tanissa says. There's another quality that immediately struck her about the village: the kindness of its people. "They have warm hearts. They are generous. They help and serve," she said. "For example, if someone asks for information, not only will they help [them], but they'll guide [them] throughout the village." 
To make the most of a stay in Douma (and get to know locals), Tanissa advises staying in one of the village's guest houses, where local families make traditional food from the region.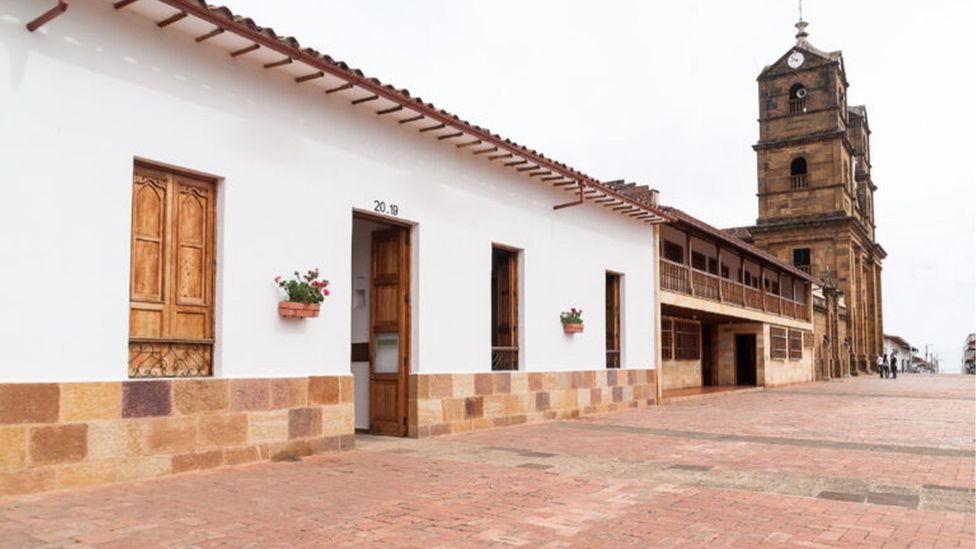 Zapoteca is surrounded by tropical forests, mountains and canyons (Credit: UNWTO)
Zapatoca, Colombia 
Six years ago, after spending three decades working as a teacher in other parts of Colombia, Guillermo Rincón Velandia decided to launch the tour company Colombia Trails SAS – and he returned to his native town of Zapatoca, Colombia, to do it. The reasons are many, he said, and they echo why the UNWTO lists Zapatoca, located in the north of the country, as one of its best tourism villages for 2023. 
First, there's the natural landscape. Located on a plateau between three canyons some 1,700m above sea level, Zapatoca has a "rich and unique geological heritage", Velandia said, including some of the oldest marine fossils in the world. The diversity of its landscape stands out, too, with ancient underground caves, tropical forests and mountains to hike, trek and explore. The climate, however, is remarkably stable: it maintains a temperature of about 20C year-round, leading locals to call it "The Village with the Silk-Like Climate". 
The town's cultural heritage is also notable, from its whitewashed 18th-Century houses with terracotta roofs that mix Republican and colonial styles to its religious architecture and history (it's been nicknamed the "Levitical City" thanks to the number of its chapels and churches). 
For music lovers, in particular, the town has even more to offer. Festivals celebrating music and dance take place throughout the year, including the International Dance Festival, the National Dance Festival "Aires de mi Tierra", the Gustavo Gómez Ardila International Choir Festival and the Bell Festival. 
"Zapatoca is a town that has kept the arts alive," said Velandia.
BBC