MultiChoice Ghana, operators of pay television services DStv and GOtv has announced that it has no plans to introduce a version of its popular Big Brother television show in Ghana.
It has therefore advised the public to be wary of any scams related to the launch of Big Brother in Ghana.
Multichoice in a statement said it had taken note of "fake news" announcing a "Big Brother Ghana" on various social media platforms.
"MultiChoice Ghana has taken note of an image making the rounds on various social media platforms depicting a Big Brother Ghana' logo. Please be aware that this is fake news as MultiChoice has no plans to launch a Big Brother Ghana' edition," the statement said.
READ ALSO :  BBNaija: Disqualified Tacha apologises to her fans (Video)
"Members of the public are advised to be wary of any scams related to this as there are no plans to launch a Ghana edition of Big Brother. MultiChoice Ghana will duly keep our customers informed of any major announcements via our official DStv & GOtv communications channels".
Big Brother is a Dutch reality competition television franchise created by John de Mol Jr., first broadcast in the Netherlands in 1999, and subsequently syndicated internationally.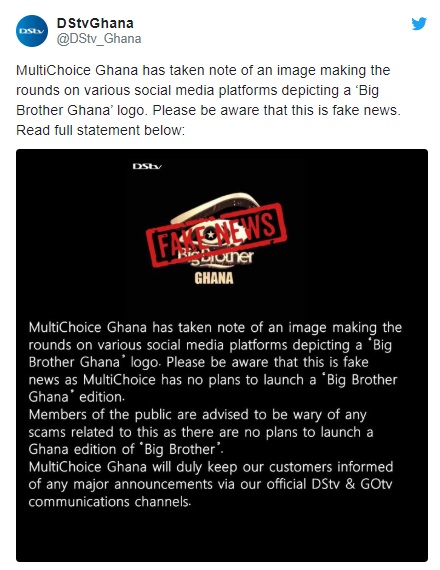 The show features contestants called "housemates" or "House Guests" who live together in a specially constructed house that is isolated from the outside world.
The name is inspired by Big Brother from George Orwell's novel Nineteen Eighty-Four, and the housemates are continuously monitored during their stay in the house by live television cameras as well as personal audio microphones. Throughout the course of the competition, they are voted out (usually on a weekly basis) until only one remains and wins the cash prize.
As of 21 September 2019, there have been 448 seasons of Big Brother in over 54 franchise countries and regions. English-language editions of the program are often referred to by its initials "BB".
The title of many Spanish-language editions of the program is translated as Gran Hermano (GH).