In our series of letters from African journalists, Elizabeth Ohene considers how the coronation of King Charles III would go if it were in Ghana, known as the Gold Coast when it was a British colony.
Short presentational grey line
The first change would be in the king's title.
Instead of King Charles, he would be Nana Charles, Nii Charles, Naa Charles or Togbega Charles – the terms for king or chief in different Ghanaian languages.
I will stick to Togbega Charles.
Royalty is not exactly a strange or unknown phenomenon to us here in Ghana.
READ ALSO: King Charles coronation: Who is going - and who isn't
We have lots of royal houses instead of the single royal house of the British. Our social and political setup before the advent of colonialism was very much based on royal houses being in charge.
READ ALSO: Everything you need to know about King Charles III's coronation
Today, we have a constitution with the full panoply of institutions and officials: a parliament, a judiciary, a president and ministers.
And side-by-side with this republic are our kings, queens and chiefs.
Even though on paper they might not have much power, there are very few Ghanaians who would refuse to obey a call by the chief in their village.
There is certainly no talk here of abolishing the monarchy.
So, if the coronation of King Charles was taking place somewhere in Ghana, he would not have to worry about the possibility of being the last monarch.
Journalists would not be looking with extra interest at how or whether the prime ministers of Australia, Canada and New Zealand bow as an indication of the likelihood of those countries giving up the British monarch as their head of state.
Nor would the Caribbean leaders at the ceremony be scrutinised for signs of an impending declaration of republican status.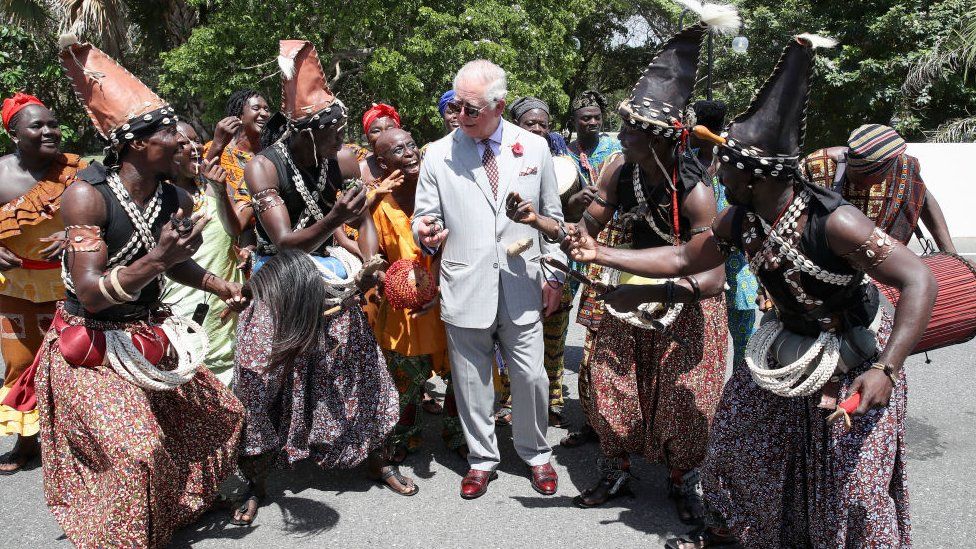 We in Ghana are quite comfortable with being both a republic, and having kings and queens.
We also know a lot about organising royal events, and we have great sympathy for the difficulties King Charles has had with drawing up the guest list for the ceremony.
It would be a full-scale nightmare here, but people would be accommodated.
In Ghana, there would be no story in a tabloid newspaper trying to rub it in that Miss Ohene had not got an invitation, as Togbega Charles and the organisers would go to great lengths to try and satisfy everybody.
It means invitations would continue to be sent out all the way until the morning of the event.
Half the people would not send an RSVP and therefore the organisers would not be certain of the numbers. Also it does not matter how boldly it is written on the invitation card that it is meant for the named person only, some people would bring a friend along.
An attempt will be made to squeeze maybe 2,000 people into a space that can only take 1,500 people.
As for King Charles' coronation, a critical part of the preparations towards the big day would be centred on the clothes that would be worn – firstly by the king himself, then his elders, who play an important role in the events, and of course, the women – both those who are playing roles and those who are guests.
The kente cloth weavers would be extremely busy and so would our designers and tailors, for no-one would survive being seen in something worn by anyone else.
Every kente would have a name that tells a story.
Special cloths would be designed and printed with the photo of the king on it and we would all try to outdo each other with the most outlandish styles.
I know the British Crown has a legendary collection of jewellery, gathered from around the world, but on a coronation day here, that would be no match.
We would display enough gold to dazzle anyone and demonstrate that ours is indeed, the land of gold.
We would guarantee a riot of colours at the event. It will be noisy, very noisy, and there would be drums and drummers and drumming that would blow your mind.
If you are new to these parts, it would be helpful to have a local nearby to explain some of the dances to you because each one would be telling a story.
And please come well prepared, for the event would last much longer than advertised.
The ceremony in Westminster Abbey will be rolled out with military precision and exactly as planned and rehearsed.
In Ghana, part of the attraction is the organised chaos and the unknown factor.
The elders who are responsible for the ceremony prefer to keep the details secret and there are always some surprise elements. Everybody who attends the function will feel he has played a part in the proceedings.
I am not sure how Queen Camilla will take this bit, but once enthroned, the elders would offer a "throne wife" to Togbega Charles.
She is not meant to displace Queen Camilla and it is not obligatory that the new king takes her, but she will be offered.
It is part of the custom.
BBC