I have restrained myself from being one of the critics of the President's choice of Madam Charlotte Osei as the Chairperson of the Electoral Commission.
My reason is simple. I do not want to swim in the same river with those who believe that it was inappropriate for a woman to be handed that task. I am forward-thinking and so I am convinced that competence, integrity, knowledge, and even courage, cuts across gender.
And so if I would have critiqued a man's performance in charge of this sensitive institution, then I will certainly not hesitate to do same when a woman is in charge.
'Giving a dog a bad name'
But I also want to believe that some chauvinists may be unduly exerting pressure on Ghana's first female head of the EC. It's perhaps just a case of giving the dog a bad name to hang it.
Without going on that trajectory nonetheless, it must be candidly stated that, some of the events that have characterized Charlotte Osei's 10-months reign are disquieting.
And some of these events have genuinely made me question her leadership credentials and what the rippling effects of her actions or inaction could be for this nation, bearing in mind the delicacy of the institution she heads.
What is my grumble about Charlotte Osei?
One of the first hurdles she is even yet to cross is the most critical issue of a credible register for the first major election she would be overseeing come November 7, 2016.
Without going into the technicalities or the merits of the proposal for a new voters' register, advocates for the new electoral roll have put forward their arguments be they valid or not.
Those opposed to it have equally done same; and attempts have been made by the EC to respond to the issues and address them.
A supposed neutral committee has recommended cleaning of the register rather than a compilation of a new one.
Convincing assurance
Regardless of this, the cacophony of noises over the register still remains. I believe that at this point, all that the commission must do; is to give a convincing assurance that there is no cause for alarm and that the elections would be credible with or without a new register – which she has tried, but not convincing enough.
'Laughable' logo
I find it quite inconceivable however, that just when the huge dust over the register debate is yet to settle, and after the brouhaha that equally greeted the Commission's botched National Election Steering Committee, a rather bizarre decision could be taken to change the EC's logo.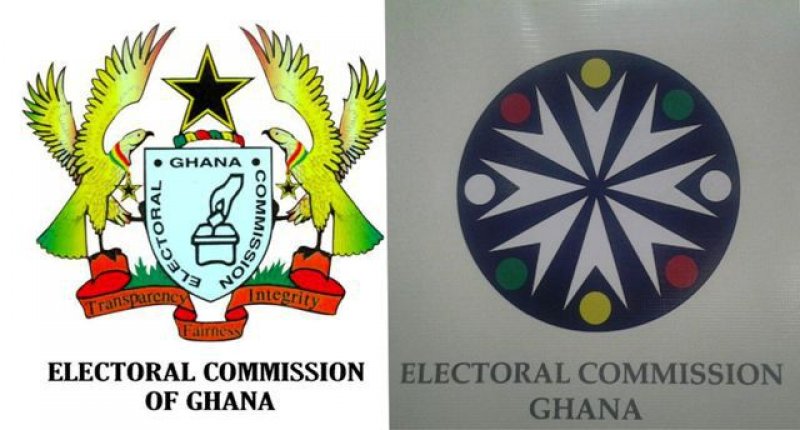 And this is at a time when the Commission's education drive on the electioneering process has not effectively started with barely seven months to the election.
Of what positive impact will the logo of a national institution such as the EC, which is not a service provider in competition with any entity, have on the crucial event of November 7, 2016?
I am not for or against a new register; I am only for a credible register. But is a new logo more important than a credible or a new register? What are the priorities of the commission considering the huge financial burden that comes with organising elections? I believe every little penny must be spent on organising a free, fair and transparent election; and the introduction of a new logo, certainly is unconnected to achieving this, and must be condemned by every right-thinking Ghanaian.
Debate on logo needless
The President, John Dramani Mahama, a major stakeholder in the contest of November 7, has suggested that the debate over the logo brouhaha is putting undue pressure on the commission.
These were his words "Some parties have made it a penchant to continuously attack the Electoral Commission for reasons I can't understand. This is the time to give the EC peace to do its work …I mean how is a logo going to affect the quality of elections in this country? I don't think it's a discourse that we should be splitting heads on. I think that our Electoral process has inherent safeguards in it that any serious political party can ensure that it polices that election and ensure the integrity of the election."
Mr. President, you got it wrong on this one. Let us be truthful for once regardless of where we stand on the political divide. Let's stop this hypocrisy else this nation will keep marking time.
Mr. President, I am sure that until the recent logo brouhaha, you may not have even taken notice of what the EC has been using as a logo all these years. You can be pardoned for that because I am in the same boat with you on that just as many Ghanaians are.
And we can all be pardoned if we didn't know about the EC's logo because in the scheme of things, it is of no use to us. If we have anything to be concerned about as far as the EC is concerned, it is the results of their work. It is the integrity, fairness and transparency in what they do. Therefore, if there must be any re-branding, it should be towards changing the misconceptions about the commission; and a logo change cannot surely achieve that.
Perhaps, changing a logo at a time when there's less activity for the commission, would not have elicited such public outrage. It would have gone unnoticed. Like the Akan adage says, 'We do what is essential, before what is praiseworthy'. And like the good Book says in Corinthians, "All things are lawful, but not all things are profitable".
I hope this is not one of the usual attempts for someone to benefit unfairly from the state coffers through the award of the contract for this shambolic logo. We are very much aware that in mother Ghana, the over bloating of project costs for the sake of kickbacks is very normal and no more shocking.
Madam Charlotte Osei, I get the feeling that you want to leave in your stead symbols that you would be remembered for when your service is over. Well; leaving behind a new logo just as it was listed as one of your achievements when you were in charge of the National Commission for Civic Education (NCCE), will only be laughable and mediocre.
And perhaps in your haste to impress us with a new logo, you ended up giving us one that has many potholes. There are even allegations of copying, which is even much more embarrassing if they are indeed true. I hope you can exhibit the audacity to withdraw or postpone it and rather focus on the major issues. But I won't be surprised if you don't because in this society, we are conversant with mediocrity because there is very little or no integrity.
For the office that you hold, your legacy will not be a mere symbol; but rather an intangible legacy of peace and stability for our country as you lead the Commission to conduct the make or break exercise for the country. That is what your predecessor Dr. Kwadwo Afari Gyan left behind despite the up and downs that characterized his 22-years of committed service.
We cannot begrudge him because like the African proverb says 'He who fetches water indeed breaks the pot'.
Your position as the Chairperson of the EC, may undisputedly be one of the most sensitive positions, and so you must constantly remind yourself of the task handed to you, and also know that every action you take will be tracked by the public eye; you must thus have a listening ear, and make sense of good counsel and objective criticism.
Inasmuch as I had some reservations about the man Afari-Gyan, I wish to say that, I am proud of him and would have been gratified if I had come through his loins.
My admiration of him from afar; is rooted in the bravery that he exhibited in his over two decades of dedicated service to this country.
Yes; it may be an undeniable fact; that in being firm, which is for me the most important but unmentioned requisite in heading an institution such as the Electoral Commission, he may have sometimes gone overboard – for which reason his critics have touted him as stubborn or intransigent.
This may not be weird or untrue about Dr. Afari-Gyan because although I am not an expert in human behaviour; it is rational that anyone who exhibits firmness in their deeds, may sometimes go overboard by ignoring what is right and sticking only to their own positions.
In some cases also; such persons are wrongly misjudged or hated for their firmness; so, the criticisms may be bias.
We hope that you don't become hardened to wise counsel and dispassionate criticism; and we also hope that you don't become a weakling or a walkover for the selfish interests of some individuals or groups.
My mouth has fallen; the young can be as wise as the grey-haired.