Consolidated Bank, CBG established to take over the assets and liabilities of the 5 collapsed banks has blocked withdrawal of the fixed deposit accounts of customers of the collapsed Beige Bank.
According to a statement signed by its Chief Executive Officer of Consolidated Bank, Daniel Addo, "Effective immediately there will be no redemptions or withdrawals on all fixed deposit accounts held by the collapsed Beige Bank".
The statement by the Consolidated Bank added that, it took the decision to block the accounts because it has noticed some anomalies in the accounts between Beige Bank and its related company, Beige Capital Asset Management.
It, however, expects to complete the reconciliation of the accounts within 10 days saying "to resolve this we have initiated a reconciling assignment which is expected to be completed within the next ten (10) working days.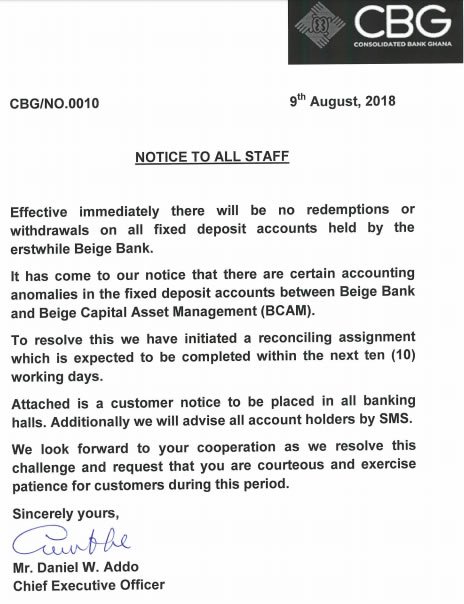 Beige Bank collapsed on August 1, 2018, after the Bank of Ghana announced it has withdrawn the licence of the indigenous bank because it used the fictitious and non-existent capital to obtain licenses.
The Beige Bank founded in 2008 by Mike Nyinaku, who is known for motivational speeches. He has revealed his admiration for the founder of Databank Ken Ofori-Atta and named "Built to Last" by Jim Collins and Jerry I. Porras as one of his favourite books.
The financial institution began as a microfinance company in 2008 and transitioned to a saving and loans company in 2012.  
It was licensed to operate as a bank in 2016 but an eight-year progression ends in July 2018. The Beige Bank had 63 branches across the country.