The Food and Drugs Authority (FDA) has done some laboratory analysis into COA FS Food Supplement and has found out that the product is contamination.
The FDA has ordered that this drug which is said to be an immune booster be returned as laboratory analysis of the product showed excessive microbial, mold and yeast contamination.
The FDA in a statement to the public also said the samples which were analysed were also contaminated with E.Coli which must not be present in a medicinal product.
Ever since COVID-19 surfaced, there was a mad rush for the product as many believed it was able to boost the immune system which could prevent one from contracting the deadly virus.
READ ALSO: Companies who imported infested gizzard into Ghana can't be blamed - FDA
Portions of their statement read: "The Food and Drugs Authority wishes to notify the general public of a recall involving all batches of COA FS food supplement manufactured by COA Herbal Centre, Cape Coast and registered with the FDA as a food supplement"

This is as a result of laboratory analysis on samples picked from the market and the manufacturing facility of COA Herbal Centre in Wusorkrom near Cape Coast…showed excessive microbial, mould and yeast contamination," 
They warned that the contamination of the drug poses a serious health risk to consumers.
They, therefore, urged all who have the drug in their possession to return it immediately and also tasked the manufacturers COA Herbal Centre to recall the product from the Ghanaian market.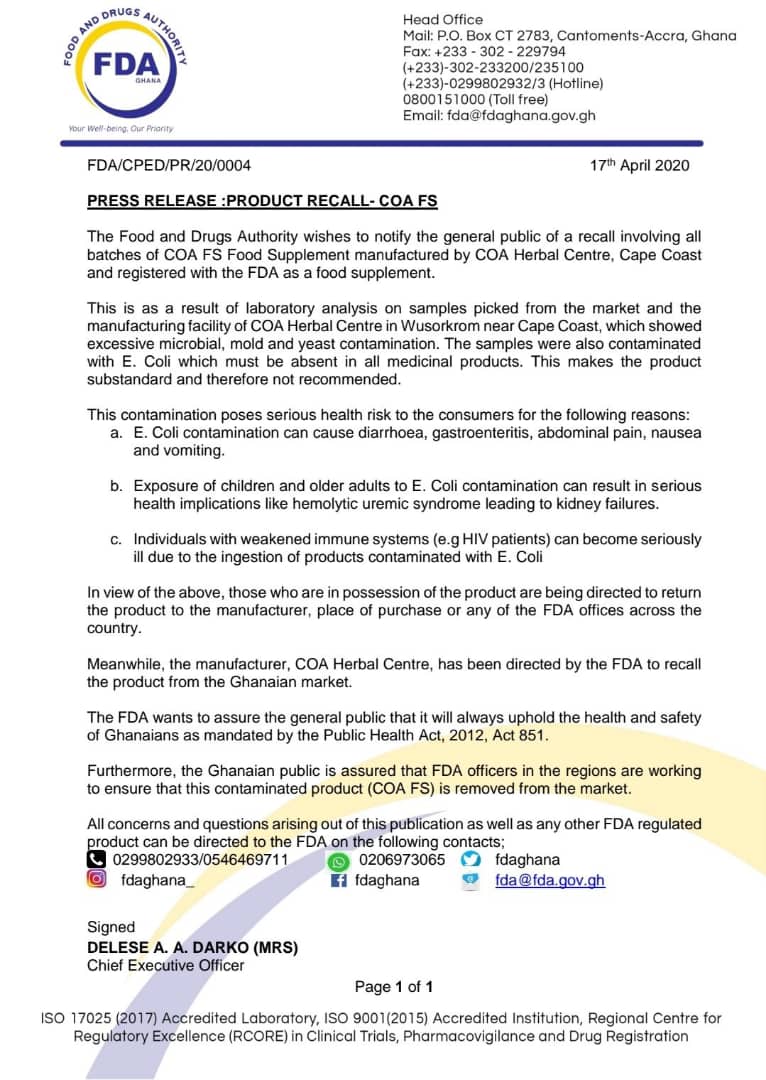 Meanwhile COA Herbal Centre has moved quickly to direct all its distributors to return the product immediately.
They also urged individuals who are in possession of the product with the said batch numbers to return to all retail outlets where there purchased the drug.
Finally, the company urged all distributors and the general public to remain calm as they believe this exercise is in the interest of the general public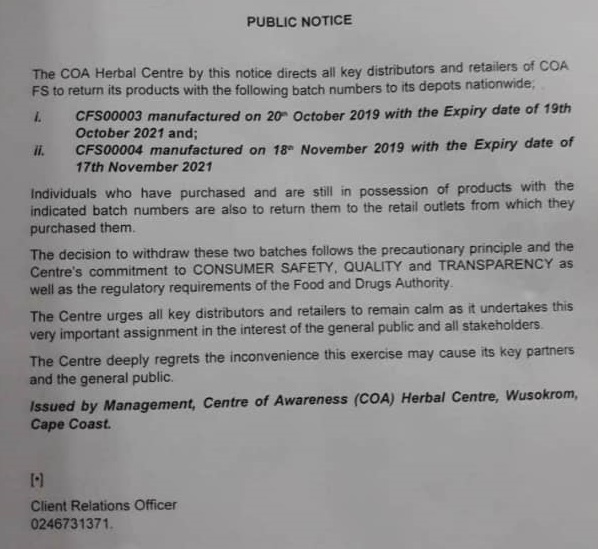 COA FS Food Supplement is manufactured by COA Herbal Centre in Cape Coast.