The Chirr Der Royal Family of the Nandom Traditional Area in the Upper West Region has dismissed media reports concerning the enskinment of the Chairman of the Convention People's Party (CPP), Prof Edmund Nminyem Delle as the Nandom Naa.
In a statement released on April 12, 2019, by the Chirr Der Royal Family and signed by the Family Head, Dier Ziem Chemogah, the family stated that no chief has been enskinned
"We wish to state unequivocally that no chief has been enskinned, traditionally, the final funeral rites of the late Naa (Dr.) Puoure Puobe Chirr VII are still being performed and this would continue for the next forty(40) days.The Royal Family is still in grief and therefore unimaginable that any member of the family will be thinking of installing a new chief at this time''
The statement further added that the purported enskinment of the Adjunct Prof.Edmund N.Delle as Nandom Naa should be disregarded. According to the family, it is an attempt to cause mayhem and to disunite the Royal family and the people of Nandom.
''We therefore, call on Edmund N Delle and his surrogates to respect the chiefs and good people of Nandom and allow peace to prevail'',the statement added.
Below is the full statement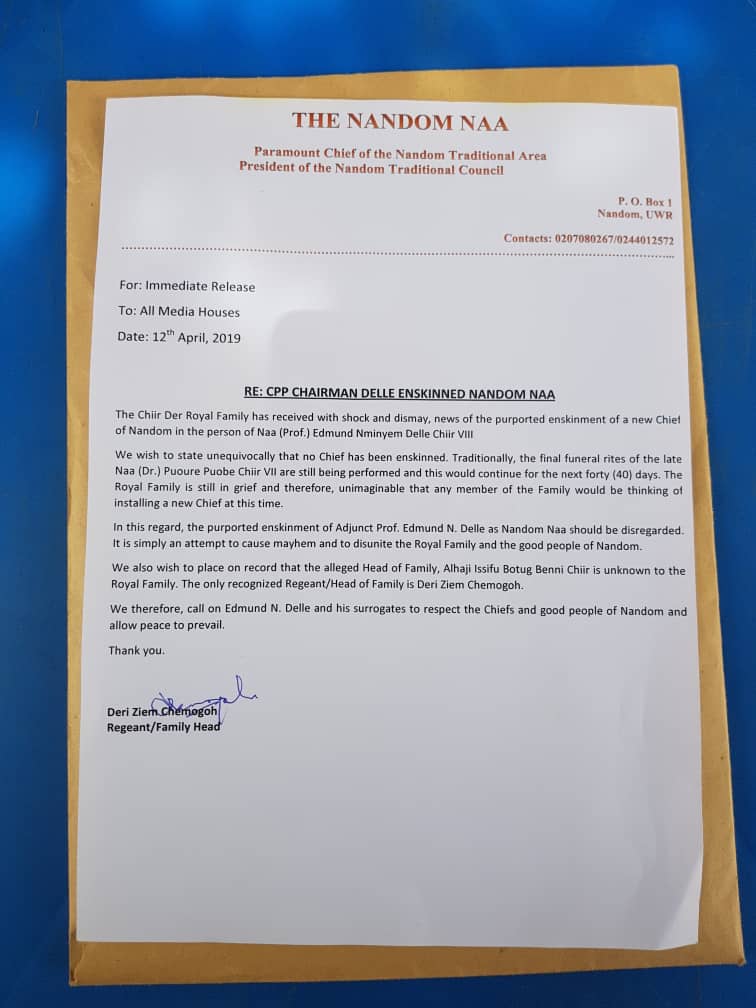 Background
On Thursday, 11 April 2019 media reports indicated that Chairman of the Convention People's Party (CPP)  Professor Edmund Nminyem Delle has been selected as the new Nandom Naa.
According to the reports, Elders of the Nandom royal family after due traditional processes and consultations selected him as the chief of Nandom.
Again the reports noted that Professor Edmund Nminyem Delle will succeed the late Na Dr. Charles Puoure Puobe Imoru Chiir VII.
In October last year rumours circulated that Prof Delle wanted to run for the presidency in the 2020 general elections but his aide quashed those reports.
READ ALSO: 
visit primenewsghana.com for more Latest news in Ghana