The former Chief Justice of Ghana, Sophia Akuffo, has joined the pensioners picketing at the Ministry of Finance in Accra over the government's domestic debt exchange programme.
Mrs Akuffo was seen holding a placard with the inscription 'We depend our bond yields to pay our rent, medical bills, electricity bills and water bills.'
This is the fifth time that members of the Pensioner Bondholders Forum are picketing at the Finance Ministry to demand a total exemption of their investments from the Domestic Debt Exchange programme.
Government has proposed a 15% coupon rate. But the group of about 50 retirees amid singing patriotic Ghanaian songs rejected same.
According to them, they will not accept any haircuts on their investments as their livelihoods depend on the proceeds from these investments.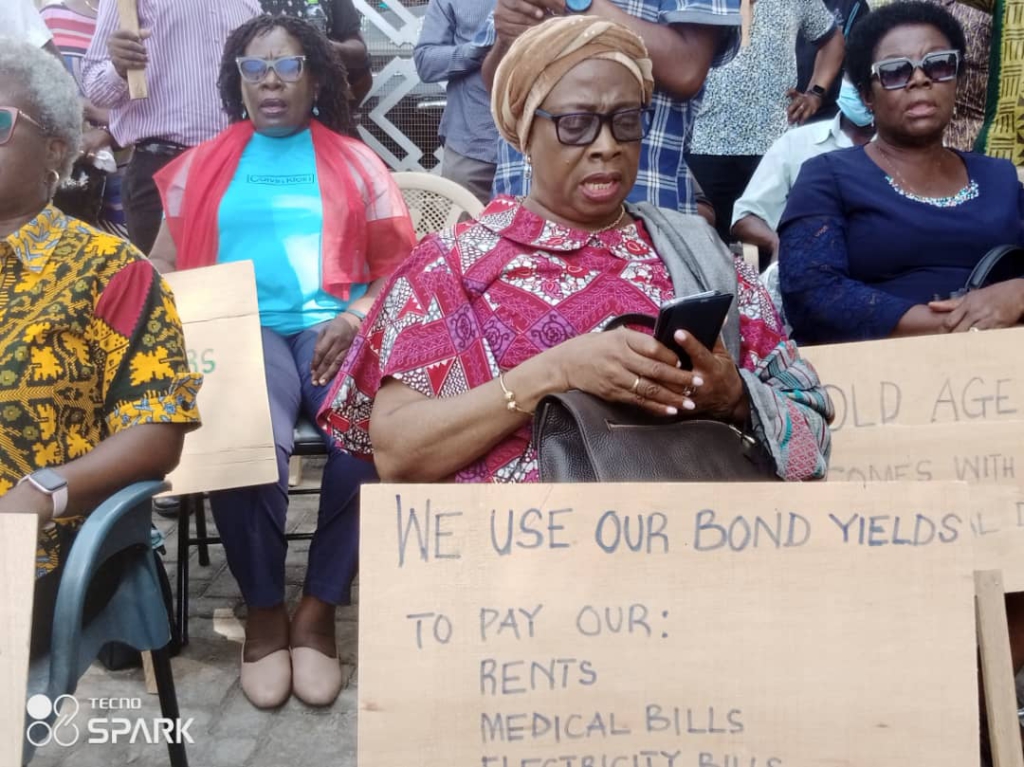 Meanwhile, the extended window that government offered bondholders to complete tender processes as part of the controversial Domestic Debt Exchange Programme (DDEP) elapses today, February 10, 2023.
The deadline for signing up for the programme expired today, Tuesday, February 7, 2023, but government in a late-night press statement said some of the bondholders faced "technical glitches as they tried to complete the online tender process" hence the window to enable such persons to complete the process.
"As a result, Government is providing bondholders with a window to complete processes for tendering their bonds, in response to the terms of Exchange as amended pursuant to the 2nd Amended and Restated Exchange Memorandum. This window ends on Friday, 10th February 2023 at 4:00 p.m. (GMT)," the Finance Ministry announced in a statement signed by sector minister, Ken Ofori-Atta.
According to the Ministry of Finance it is receiving the needed response from various stakeholders and individuals after it opened a three-day administrative window
The Ministry earlier indicated that over 50 percent of bondholders have subscribed so far and is hopeful that the decisive steps adopted by the government will yield the necessary objectives.