The Government of Ghana through the Ministry of Education has released an amount of GHS 57, 460,000.00 covering feeding grant and Student allowance to 46 Colleges of Education in Ghana.
According to the Ministry, the funds were released to cover feeding allowances and allocation of GHS29, 304,000.00 which is meant for payment of students' allowances in all the public Colleges of Education.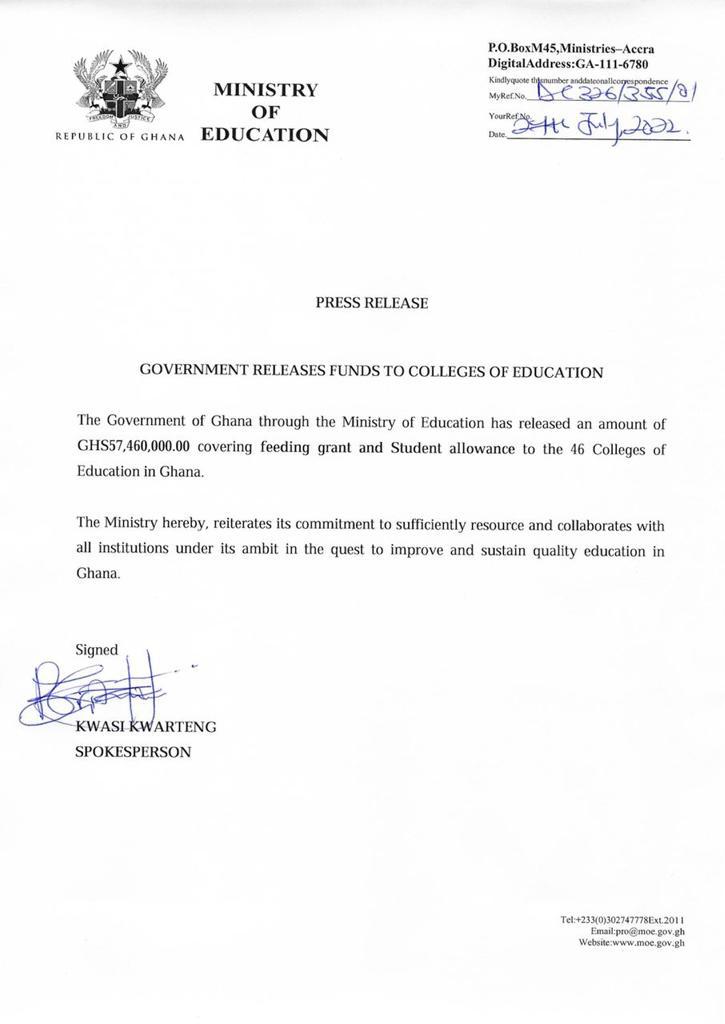 Teacher Trainees Association of Ghana (TTAG) this week stated the government has defaulted on the payment of teacher trainees' allowance for about 7 months which has compounded economic difficulty for trainees across the country.
The TTAG National President, Jonathan Dzunu, detailed that the allowance is in arrears for 7 months for the 2021/2022 academic year, spanning from January to July 2022.
He was speaking at the 26th General Assembly of the TTAG held at the St. Francis College of Education in Hohoe in the Volta Region,
Mr. Dzunu said teacher trainees continue to struggle with their upkeep and find it difficult to purchase academic materials in schools.
He said that the allowance had served as a poverty alleviation intervention, cushioning teacher trainees studying and undergoing teaching practice in basic schools.
He asserted that food shortage is imminent in the Colleges of Education because suppliers are being reluctant in supplying food items to the colleges due to their inability to pay for previous supplies.
"Looking at the current economic hardship in the country, you can imagine the difficulty students are going through, life on campus without allowance has become very unbearable for us.