The National Labour Commission, NLC has described the intended strike by the Judicial Service Staff Association (JUSAG) as illegal.
A statement signed by the Executive Secretary of the Commission, Hon. Ofosu Asamoah declared the intended strike action by JUSAG as being contrary to section 161 of the Labour Act, 2003 (Act 651) and consequently illegal.
The Labour Commission exercising its powers under section 139 of Act 651, directed JUSAG to refrain from embarking on the strike or any intended industrial action and further directed them to comply with its earlier directives.
READ ALSO : Court processes and proceedings to stall as judicial service workers begin indefinite strike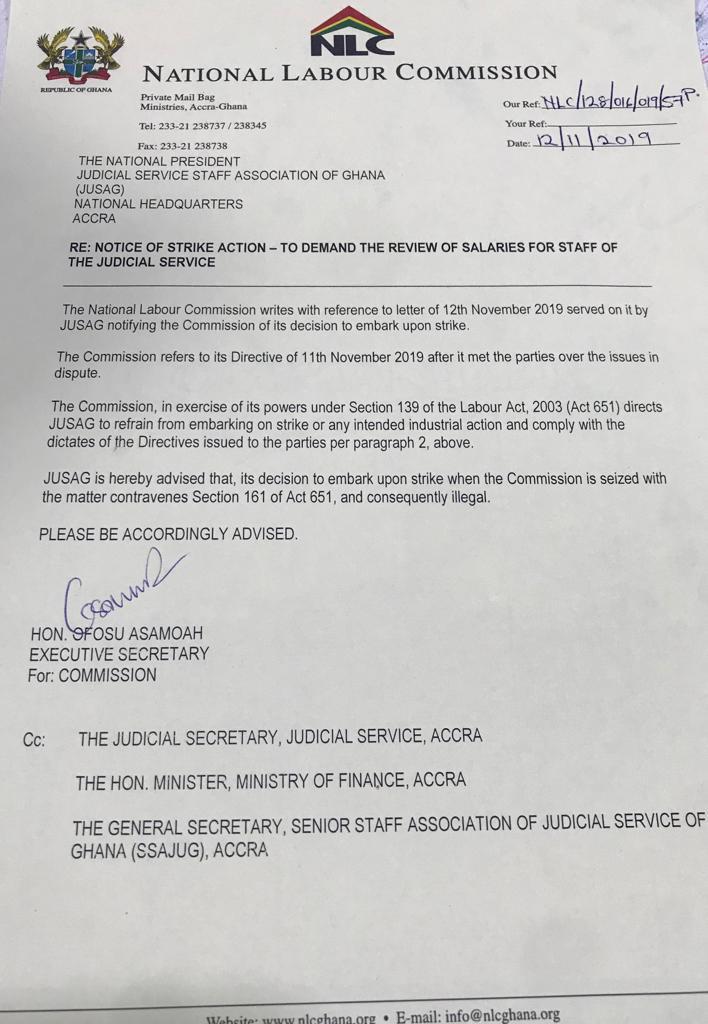 The Judicial Service Staff Association of Ghana (JUSAG), yesterday, told their members not to report to work today Wednesday, November 13, 2019.
This action, they said will continue until further notice. JUSAG in a statement said after meeting with the National Labour Commission, they failed to come to a consensus on matters regarding the review of their salary.
They, therefore, said they are left with no option than to embark on an indefinite strike.
Portions of their statement read: "After our meeting with the National Labour Commission on 11th November 2019, the leadership of the JUSAG had a meeting with our Regional Executives and our rank and file. The resolved that since we have already complied with the procedures under the 1992 Constitution regarding our conditions of service, we should proceed accordingly"
"JUSAG is left with no option than to declare an indefinite strike action…" the statement said in part.
The association, however, said, "the security personnel of the Judicial Service, shall, however, report to work to protect life and property."