The Komfo Anokye Teaching Hospital, KATH Directorate of Surgery has responded to issues raised by its staff.
According to the statement, steps have already being taken to address some of the issues raised.
The statement said issues relating to the water heater, air conditioning, furniture among others have been addressed.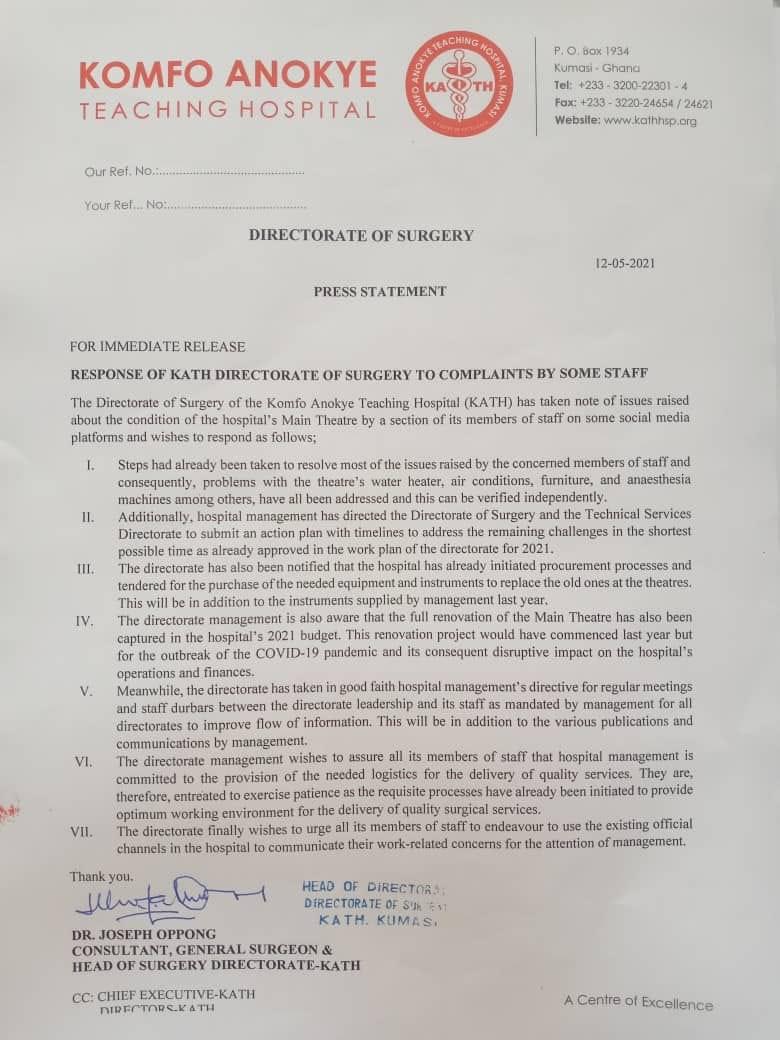 Surgeons at the Komfo Anokye Teaching Hospital (KATH) in Kumasi are protesting over the unsafe theatre used for surgeries.
The Surgeons are also complaining about the lack of basic equipment at the Surgery department. They claim that several complaints lodged with the management have not been resolved adding that the unsafe surgery could lead to deaths if the department is not refurbished immediately.
Speaking on Abusua FM on Friday, Dr Anthony Davor, a Pediatric surgeon at the Komfo Anokye Teaching Hospital, said basic equipment to treat children and critical emergencies are outdated and not fit for purpose.
"We have complained about several of these issues for a very long time but nothing happens. Sometimes they pretend to fix the challenges and then they suddenly stop. Our surgeries are not safe, they are not safe at all.
"We don't intend to embarrass anybody but the main issue is that our patients must be safe when they come for surgeries. What we need is the basic equipment to work. Our water heater broke down on January 3, it was only fixed last week after several complaints. In the ICU there are no even fans there but we work in the heat all the same."
Meanwhile, the PRO of the Hospital, Kwame Frimpong in response said, the management has put in place measures to address several of the issues raised by the Doctors. He added that the theatre will be renovated this year.
Mr Frimpong added that the management of the Hospital has made several investments over the years in ensuring the hospital is safe for both patients and doctors to work at. He also urged the Doctors to exhaust internal communication channels before moving to air their grievances to the media.