The Chancellor of the Kwame Nkrumah University of Science and Technology (KNUST) Otumfuo Osei Tutu II has expressed his displeasure over the conduct of the students of the University, which led to the closure of the school.
Students of KNUST staged a violent protest against what they described as oppression from the school authorities.
This protest ended in students vandalizing properties.
The school was due to reopen on November 8, 2018, but that did not happen due to a dispute over which people should constitute the new governing council.
On Tuesday, November 23, members of the new governing council were sworn in at the Manhyia Palace. At a short ceremony, Otumfuo condemned the action of the students that led to the closure of the school and promised this will never happen again under his watch as the chancellor of the school.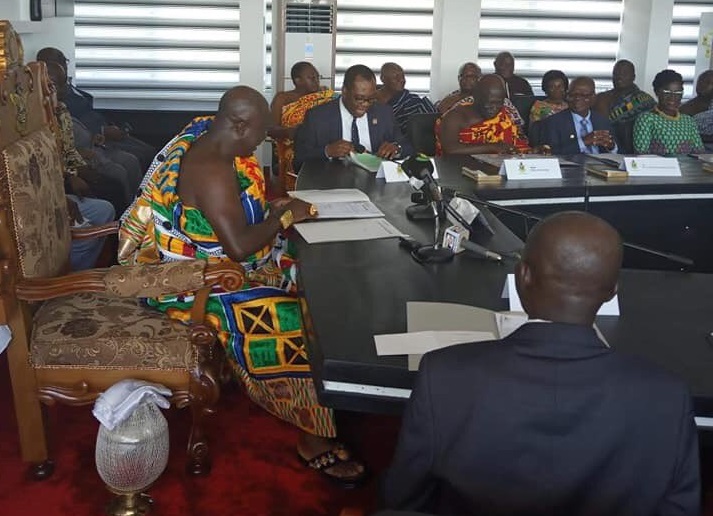 " I have served as your chancellor going on a decade, I have devoted more time, effort and resources to the University, than any entity since I ascended the Golden stool"
" We have been maintaining close relations to all levels of personnel with the leadership as well as students, I am aware that all stakeholders are fully conversant with channels for the resolution of issues"
"All are aware that when all efforts fail you can always resort to the office of the chancellor, when I checked the minutes of the council I realise this was a decision they took in one of their meetings with full participation with the alumni, with the SRC and all the institutional representative".
" It raises serious questions about how a decision taken by all these representatives, which still had a section of the alumni and students causing havoc which has resulted to the calamity we now face"
" This is a pain I do not bare lightly, I am determined that the return to normalcy should be a cleaning process so this does not occur again in the future", the Chancellor added.
Read also:
KNUST: School reopens on Friday, Nov.
Ghana News: Latest news in Ghana