The Chief Executive Officer (CEO) of Menzgold Ghana Company Limited, Nana Appiah Mensah (NAM1)   has mocked the Bank of Ghana (BoG), describing it as the "joke of the day", the BoG's warning to his company to stop taking deposits or face sanctions.
BoG on Tuesday, 7 August 2018, issued its fourth public notice that it was in discussions with relevant regulatory authorities to sanction Menzgold Company Limited for engaging in "solicitation, receipt of money or investment and the payment of dividends or returns to its clients" even though it does not have a license to do so.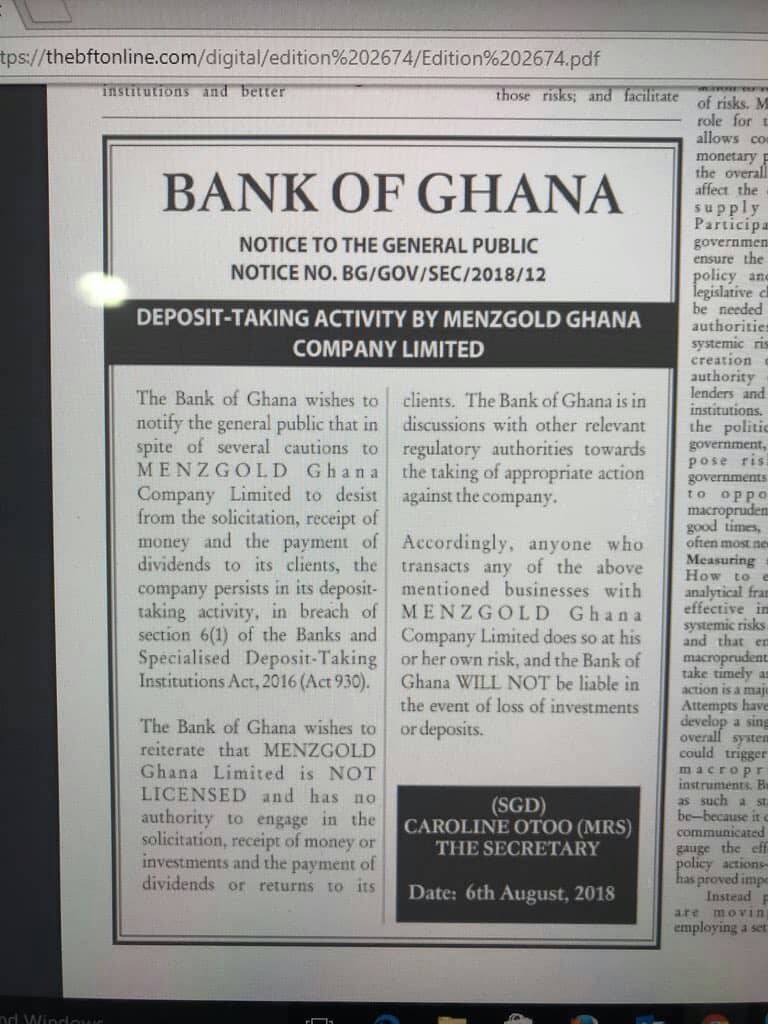 The notice signed by the Secretary to Governor of BoG, Mrs. Caroline Otoo, said in spite of several of cautions to Menzgold Ghana Company Limited to desist from the act, it persists in its deposit-taking activity in breach of section 6(1) of the Banks and Specialized Deposit-Taking Institutions Act, 2016 (Act 930).
BoG has, therefore, cautioned the general public that anyone who transacts "any of the above-mentioned businesses with Menzgold Ghana Company Limited does so at his or her own risk".
BoG added that it will not be liable in the event of loss of investments of deposits.
The warning is as a result of the collapse of five struggling local banks – uniBank, Sovereign Bank, Construction Bank, The Royal Bank and Beige Bank – into the Consolidated Bank Ghana Limited.
But a day after the public notice, the CEO of Menzgold in a Tweet said "TODAY'S JOKE: Bank of Ghana, so now you dey do propaganda? I beg paa "Tell Ghanaians exactly what happened with the 5 or so collapsed banks you duly LICENSED & SUPERVISED for years. Please don't attempt to use our dear Menzgold to cover-up😎. I beg make we think!"
NAM1 added that "the Bank of Ghana is dishonest, irreesponsible and very reckless". 
TODAY'S JOKE: Bank of Ghana, so now you dey do propaganda?😀😀😀 I beg paa "Tell Ghanaians exactly what happened with the 5 or so collapsed banks you duly LICENSED & SUPERVISED for years. Please don't attempt to use our dear Menzgold to cover up😎. I beg make we think! pic.twitter.com/o4zADtIsP9

— Nana Appiah Mensah (@mn_appiah) August 7, 2018
Latest News from Prime News Ghana