Kwabena Frimpong-Boateng Minister for Environment, Science, Technology & Innovation and also Chairperson for the Inter-Ministerial Committee on Illegal Mining (IMCIM) last month disclosed that some of the excavators that were seized from galamsey have vanished.
This sparked debates about whether or not the government is concerned about the fight against galamsey, as some individuals and groups believe that the excavators are being resold to NPP party members.
The Minister in a letter to the Criminal Investigation Department(CID) appealed to them to investigate Peace FM journalist, Seth Mantey and a National Security Officer in the ongoing missing excavators' saga.
In a letter to the police, the sector minister claimed the reporter, in October 2019 used his National Investment Bank (NIB) account to receive and distribute proceeds of the alleged sale of the excavators.
READ ALSO : NPP defends Prof. Frimpong Boateng over 'missing' excavators saga 
The letter goes on to explain that, "In the course of the investigations, Mr Mantey confessed that he was contacted by Mr John Ofori-Atta, then National Security Coordinator, for the Central Region and Mr Ekow Ewusi to use his bank account."
"The money's lodged were later cashed and given to Mr John Ofori Atta who in turn gave some of the money to Ekow Ewusi, " the letter said.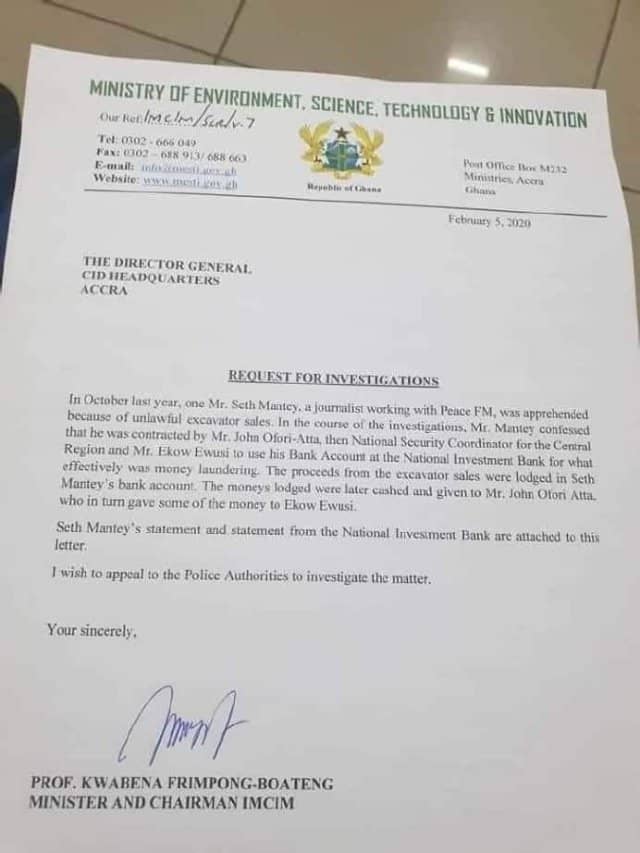 After discussion on the Joy FM's "NewsFile" on issues surrounding the missing excavators and the galamsey fight, host of the show Samson Lardi outlined some questions the Minister needs to answer to bring clarity on the issue.
The first question from the host is that if the Minister is saying in its letter that a certain Seth Mantey was arrested and he is appealing for him to be investigated by the police CID, who then arrested Seth Mantey?
Also, If the Minister said it was discovered that his bank account was used to pay monies illegally for excavators and there is evidence that it is true who conducted the investigation?
The Minister said he confessed to allowing his account to be used for that, who did he confess to?
It is important to know how come the Minister is the one writing to the police asking them to investigate Seth Mantey?
Who has been investigating since October last year?
How many excavators seized so far?
How much it has cost the state in the exercise?