RAD Communications Limited, RADCOMM has opened nominations for this year's Tertiary Eminence Awards.
A statement from the company signed by its Communications Manager, Justice Bimpeh said, "The General Public is by this release informed that nominations for the Tertiary Eminence Awards 2020 is opened from today, 20th May 2020."
Tertiary Eminence Awards is a top-level and impactful award scheme developed by RAD Communications Limited and partners to recognize, encourage and honour positive works of students across Ghana.
This award promises to serve as a springboard for many young people who aspire to reach higher heights with their works and efforts.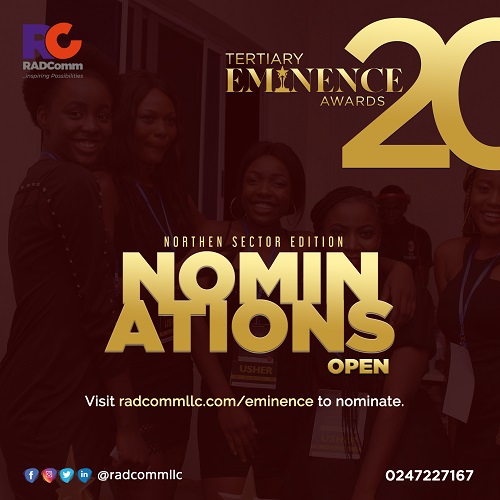 As part of the award scheme's 5th anniversary, RAD Communications Ltd has extended the impact of the awards scheme to all tertiary institutions in Ghana. The award scheme will see three events organized nationwide; the northern sector (Ashanti, Bono, Ahafo and the Northern regions), the western sector (Western and Central Regions) and the southern sector awards (Eastern, Greater Accra and Volta Regions).
The main categories comprise; Tertiary Hall of Fame, Tertiary Student Leadership, Media & Communications, Fashion and Entertainment and Film and TV Production, with over sixty (60) subcategories.
There is also the introduction of the STEM category, which is aimed at awarding and promoting students in Science, Technology, Engineering and Mathematics.
Nomination link has been provided below for students to nominate themselves.
https://www.radcommllc.com/eminence
NB: Nominations ends on 20th August 2020.
Contacts for any enquiry 
Justice Bimpeh
(Communications Manager)
RAD Communications LLC.
0271253590

Patience Agyekum                  Shadrack Odame Agyare                             Enoch Lanquaye Lamptey
(Affiliate Manager)            (Community Business Manager & Admin.)         (Deputy Affiliate Manager)
0207849729                             0540429960                                              0247227167