Sorry, fish fans, but you may need to forgo the calamari starter for your supper.

The Good Fish Guide, which is updated annually to let us know which fish are in decent supply and which we should stop chomping on, has declared that squid is not a sustainable seafood choice.

The Guide lists each type of fish on a scale of one to five in terms of sustainability. If a fish scores a one or a two, it's a solid choice. If it's a five, you should avoid it. A three or four means you shouldn't eat it too often.

The majority of squid types fall into a four or five. This means that the method used to fish for squid is not very good for sealife and could have negative longterm consequences.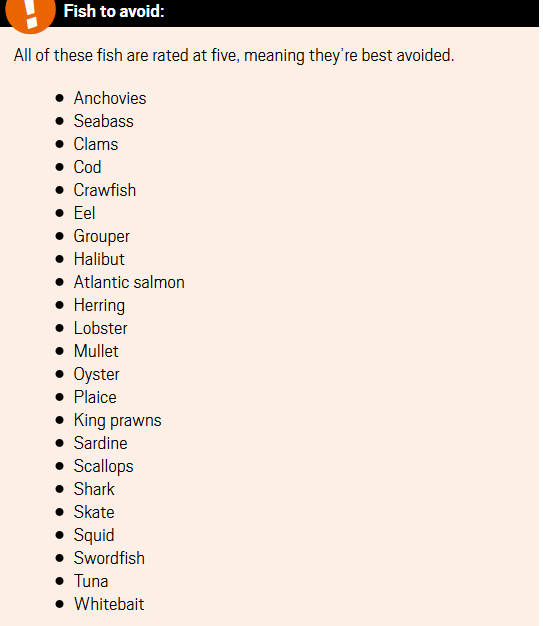 Atlantic salmon (rated as a five) also falls into this category, so is best avoided. That puts a spanner in our Sunday lunch plans.

But as we know, a diet rich in fish and vegetables has all kinds of benefits, so we're reluctant to ditch fish entirely.
Thankfully the Good Fish Guide has some recommendations for fish you can load up on.

Campaigners are encouraging us all to opt for haddock and pollock, both of which are rated as ones.

FYI, pollock is the fish used in a McDonald's Filet-O-Fish sandwich. Good to know.

Read also:Campaigners urge us all to ditch calamari and salmon
'Choosing sustainable seafood is a complex issue not helped by a lack of clear labelling on most seafood products,' said Bernadette Clarke, programme manager for the Good Fish Guide. 'That lack of information means that consumers need all the help they can get.'

If you're keen to assess your fish consumption in terms of sustainability, you can search different types of fish on the Good Fish Guide. They also have an app so you can check while you're in the queue for fish and chips.

Each fish listed as alternatives offered up, so you don't have to go fishless.

Source: metro