Ghanaian delicacies are normally starchy staple food, accompained with sauce or soup.
The main ingredient for majority of soups and stews prepared the Ghanaian way are canned tomatoes or fresh tomatoes.
As a result, nearly all Ghanaian soups and stews are red or orange in appearance. Check out some popular Ghanaian delicacies and their recipes
1.Light goat soup with fufu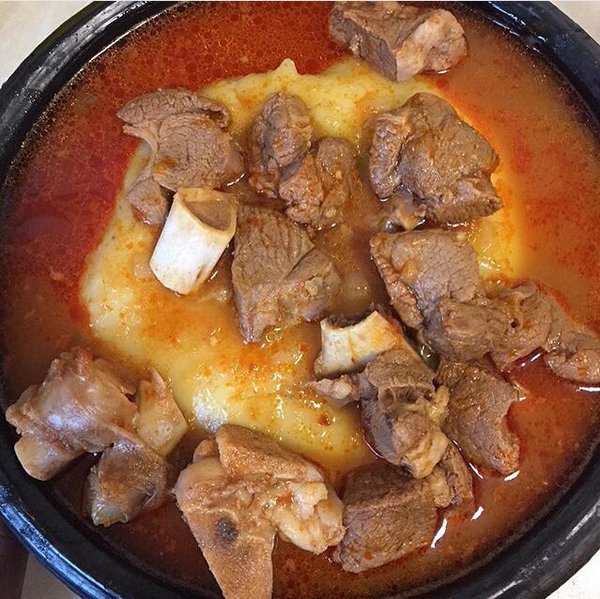 Ingredients:
-Goat Meat

-Tomatoes

-Kpakpo shito (or hot pepper)
-Ginger

-Garlic

-Onions

-Tomato puree

-Salt

-Aubergine (also known as a garden egg in Ghana)

-Cassava and plantain

Preparation:

-Put the goat meat in a soup pot or saucepan and season with chopped onions, spices and a little salt. Wait for about 5minutes for it to steam under low heat then add the tomato paste.

-Stir the goat meat and add a ¾ cup of water to the pot, cover and bring the water to a boil still under lower the heat to simmer.
Prepare a second pot with the washed tomatoes, onions, pepper and add water. Put on fire boil for 15minutes until vegetables are soft.
-Removed and grind them together (in a blender or 'asanka', local style for grinding it) and pour it on the steaming goat meat.
Let it simmer for a while and add cups of water as appropriate, stir for some time (you can add broth to the soup if preferred). Let it simmer for a couple of hours as goat meat tends to be tougher.
-Add more water if necessary and salt to taste.

-Peel cassava and plantain, put them in a saucepan, add water and put on fire. You can choose to add a little salt. Leave it to boil for about 20minutes.

-Drain water and prepare mortar and pestle as it cools down for pounding. Start pounding the boiled cassava and plantain into fufu.

-Check goat meat light soup on fire and serve if ready.
2.Fish jollof rice with fried plantain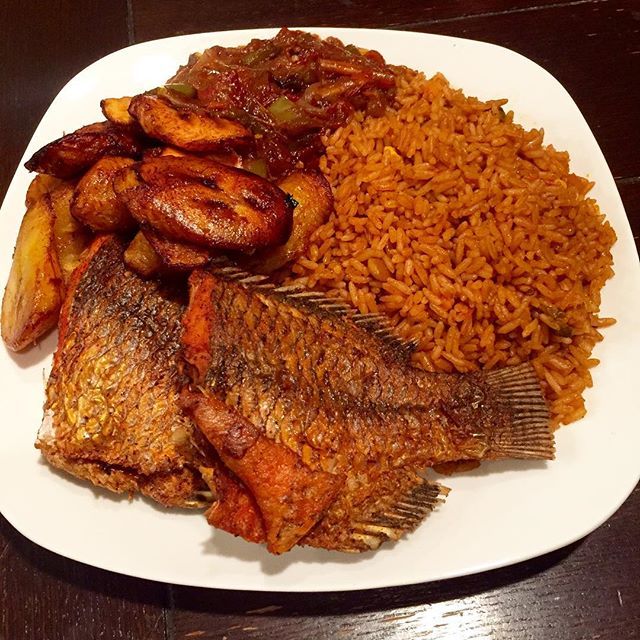 Ingredients


-Onions 
-Vegetable oil
-Chopped tomato
-Tomato paste
- Pepper
- Curry powder
-Fish
-Rice
-Water

Preparation

-Blend your tomatoes, red pepper, scotch bonnet peppers in a food processor or blender for about 45 seconds, make sure that everything is blended well.

-In a medium-sized pot, heat your oil on medium-high heat. Once the oil is heated add the onions you set aside and fry just until they turn golden brown.
-Once the onions have turned brown in colour add the tomato paste and fry for 2-3 minutes. Then add the blended tomato mixture and fry the mixture with the onions and tomato paste for about 10 minutes. Make sure you stir consistently so that the tomato mixture does not burn.

-After 10 minutes, turn the heat down to medium. Mix and add your seasonings (salt, curry powder, Maggi cube). Continue to boil for 20 minutes.

-Add the rice to the mixture. Mix it very well with the tomato stew. At this point, if you need to add water so that the rice is level with the tomato mixture go ahead and do so. 
-When the liquid has almost dried up add the remaining tomato stew, cover, and let it cook for 45 minutes heat until the liquid has completely dried up. Turn off the heat, mix thoroughly, and your Jollof Rice is ready to be eaten.
-Season the fish with salt and Maggi cube. Coat the fish with flour to prevent the fish from sticking into the frying pan.
-Heat oil in a frying pan and fry the fish. Turn the fish occasionally to prevent burning. When its cooked, put the fried fish in a colander to drain excess oil from the fish. Repeat the process until all fishes are cooked.
- Peel and slice the plantain. Place in a bowl and add a little salt. Toss the plantain to ensure that the salt is evenly distributed.
-Pour a generous quantity of vegetable oil into a frying pan and allow to heat. 
-When the oil is heated, add a considerable quantity of the plantain slices to the oil, leaving enough room for the slices to fry evenly.
-When the underside of the slices starts to turn golden, flip the slices on their other side.Fry till a desired browning is achieved.
-Remove and place in a colander to drain out the oil. Repeat process for the next batch of the plantain slices.
-Serve hot fish jollof rice with fried plantain
3.Grilled tilapia with banku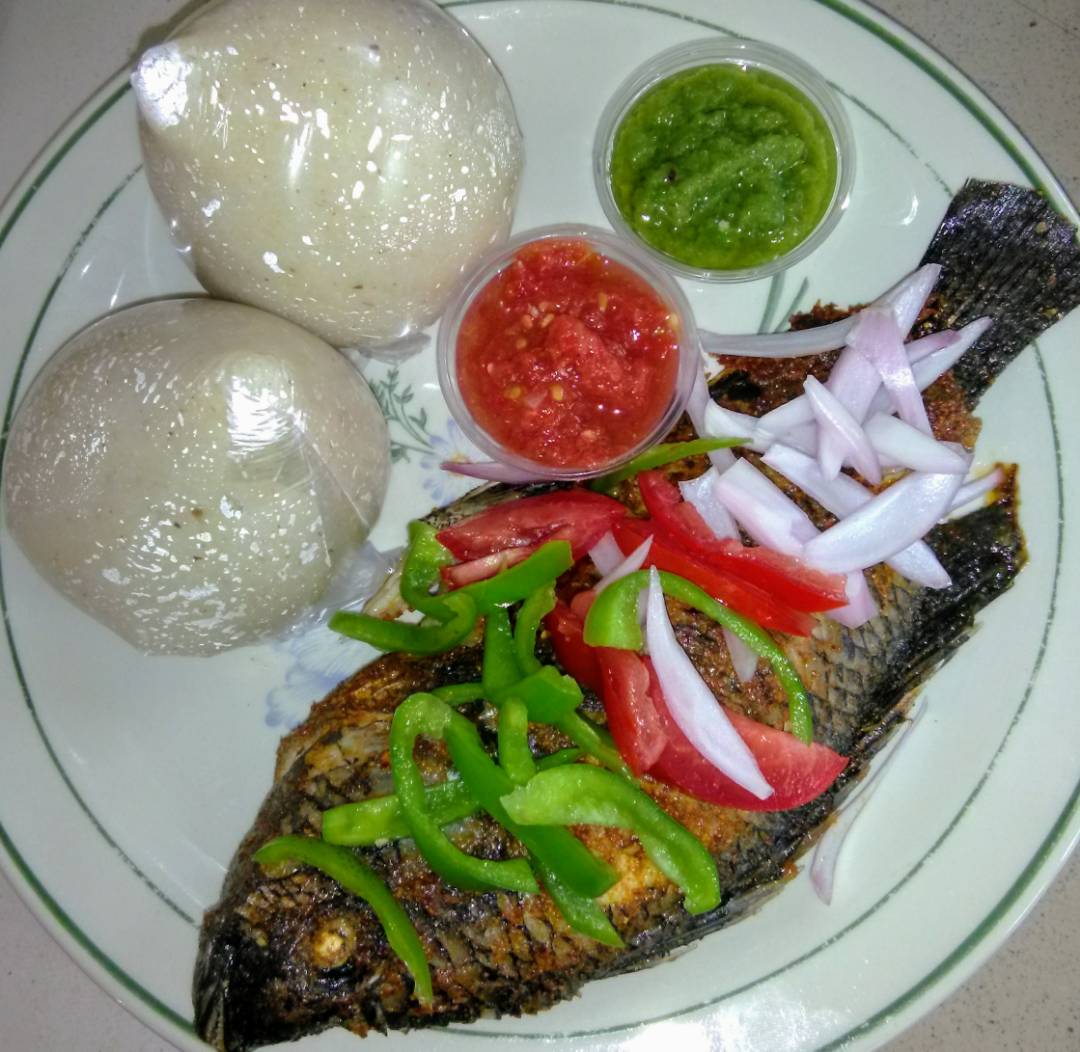 Ingredients:
-Tilapia

-Garlic
-Ginger

-Mixed pepper
-Chilli pepper

-Onion

-Maggie cube

-Salt

-Oil
 
Preparation 
-Clean and dress the tilapia

- Blend the onion, ginger, garlic, and pepper and season together.

- Taste to see if the salt content is enough

-Sprinkle a little oil on the pan lined with aluminium cooking foil

-Pour the blended mixture on the tilapia and ensure every part is well covered with it.

- Put it under the grill for 10-15 min and turn it over for a few more minutes 10 minutes till its cooked
-Mix corn dough and cassava dough with water together in a cooking pot 
-After mixing the mixture well, put it on fire and mix thoroughly till its ready for kneading. When kneading and it becomes too hard, add water to soften it. Knead till the mixture turns into banku.
- Garnish grilled tilapia with onion with some herbs eg. parsley. Serve with hot pepper and banku
READ ALSO: