Jollof is one of the most popular meals in Ghana. Getting a tasty and satisfying Jollof takes a bit of skill.
Various Jollof recipes exist, especially here in Ghana.
Here are simple steps to preparing your Ghana beef Jollof this Christmas.
Ingredients
1/2-1 pound boneless beef
3 cloves garlic
1-inch ginger
1/2 green bell pepper
Scotch bonnet pepper as required (optional)
1/2 onion
Pinch dried rosemary
Salt as required.
Stew
1/2 cup/120ml oil
3 tablespoon tomato paste/ puree
1 large onion
2 tablespoon turkey berries optional
Pepper as required
2 large tomatoes chopped
1/2 teaspoon curry powder
1 bay leaf
Pinch dried rosemary
Jollof
2 cups rice
1 1/2 - 2cups water adjustable with the brand used
Salt as required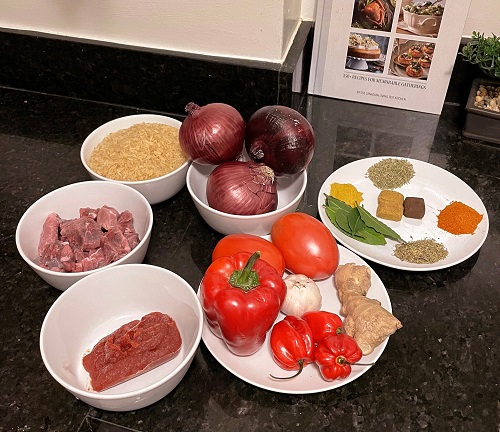 Beef preparation
Rub beef with garlic powder, a pinch of rosemary, and salt and marinate for 15-20 minutes.
In a large, heavy-bottomed pot, heat ½ Cup of oil over high heat. Then, add beef and brown each side for 2-3 minutes (Move the meat as little as possible during this stage).
Stew preparation
Prepare onion sauce. In a blender, add onion, scotch bonnet, garlic, a thumb of fresh ginger, bay leaf, dried rosemary, optional anise seed, and water. Blend until smooth. Set aside.
Add browned beef, sliced onions and stir to combine. Season with rosemary and 2 bay leaves. Then, sauté over medium heat until onions and herbs are fragrant. Add in thyme, curry powder and dried chili powder so that these spices can bring out the best flavour in the Jollof.
READ ALSO: Recipe Wednesday: Kelewele (fried plantain)
Stir mixture until the onions are translucent then add tomato paste, mixing to combine. Fry tomato paste in onion mixture for about 2 mins. Now, add the blended onion sauce.
Allow mixture to fry on medium heat for about 5 mins, stirring often, then cover and reduce to a simmer.
When the tomato blend has boiled down, add it to the spice-onion-beef mixture on the stove. Stir to combine.
Reduce the heat to medium-low and cover, allowing the flavours to marry for about 10 mins, stirring often.
After 10 mins, taste and adjust seasoning. If you like, you can add a little baking soda to balance any acidity.
Jollof preparation
Now, add the rice to the beef stew and fry for 1 minute until the rice begins to stick together and drops readily from a wooden spoon.
Now, cover the pan tightly with aluminum foil to trap in steam. Cover with lid and cook on low heat for about 20 mins.
After 20 minutes, uncover and stir to redistribute the heat. Cover again with the foil and lid and cook for another 20 minutes or until all liquid has been absorbed and the rice is tender.
Serve and enjoy your Jollof. It can be served with some greens, plantain or kelewele.