Ex-President John Dramani Mahama will on Saturday, May 4, 2019, present a report on the State of Peace and Security in Africa, at a High-Level Forum on Security in Africa.
He will present the report at the 8th Tana Forum taking place on the shores of Lake Tana in the Ethiopian town of Bahir Dar.
The 8th Tana Forum is on the theme, 'Political Dynamics in the Horn of Africa: Nurturing the Emerging Peace Trends'.
Former President Mahama is the Chairperson for the Tana Forum Board after he took over from former Nigerian President Olusegun Obasanjo in 2018.
The two-day Forum is expected to host a number of sessions and presentations including a tribute to Winnie Madikizela- Mandela during the Meles Zenawi Lecture on Leadership.
The Munich Security Conference and the African Union will also host a side event on 'Sharing the burden: the future of peacekeeping, with other sessions focusing on 'How economic integration affects a continent's security and the implications of the evolving geopolitical dynamics in the Horn of Africa.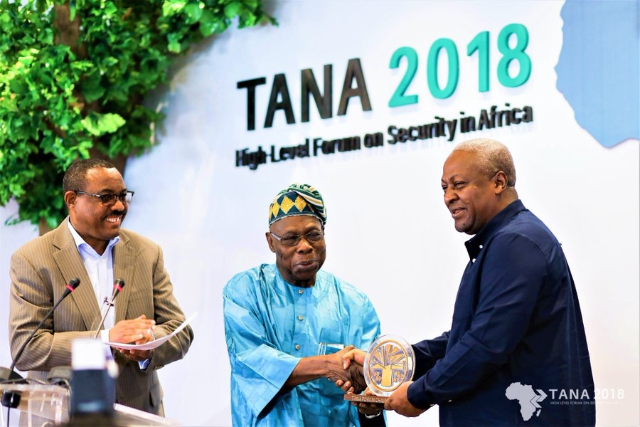 The Tana High-Level Forum on Security in Africa is an annual event that brings several leaders from all sectors to work on an African-led security agenda.
It is a response to the call by African Heads of State and Government for the elaboration of "African-centred solutions" in the prevention, management, and resolution of the conflict in the August 2009 Tripoli Declaration on the Elimination of Conflicts in Africa and the Promotion of Sustainable Peace.

Ethiopian President, Sahle-Work Zewde is the host of this year's Forum.
Read also: