Former President John Mahama has said claims by a member of the governing New Patriotic Party (NPP) that he was plotting a coup d'etat against the current administration was false.
The Bono regional chairman of the NPP Kwame Baffoe (Abronye DC) had made the claim, forcing prompting his arrest by police. He has since been charged with the publication of false news and granted bail.
In a statement dated February 16, 2022, John Mahama said the comment by Abronye DC, who is known for making slanderous comments on radio and TV, was mere "part of concocted stories".
READ ALSO: Court grants Abronye DC ¢100K bail
"HE John Dramani Mahama has not met with any group of people, let alone a terrorist group, to plot to stage a coup d'etat. President Mahama is very well known, both in Ghana and internationally, as a democrat and a strong believer in strengthening democracy not only in Ghana but across the continent of Africa.
"Therefore, any attempt to align or associate him with anti-democratic activities, acts of destabilisation, and abuse of human and other rights, cannot be true," Joyce Bawah Mogtari, a special aide to Mahama said in the statement.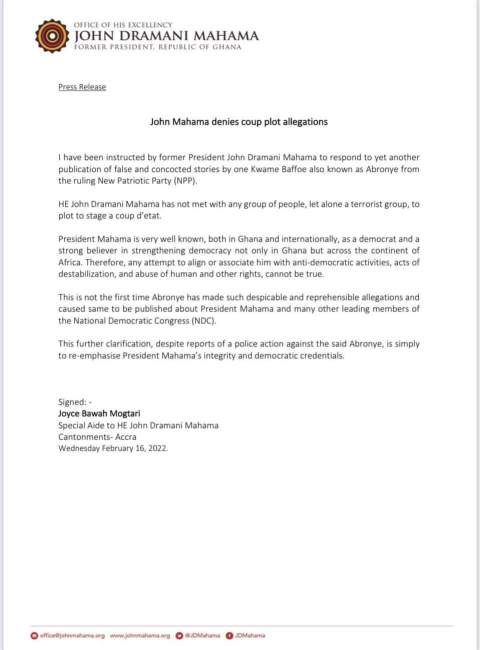 The statement stressed further: "This further clarification, despite reports of a police action against the said Abronye, is simply to re-emphasise President Mahama's integrity and democratic credentials."