Twins are usually a sight of attraction wherever they turn up and it is a more beautiful sight to see twins playing professional football and probably in the same club.
Some completed their dream playing in the same team while some had to come up against each other. 
Below are PrimeNewsGhana.com' top 10 twins who play the beautiful game of football.
1. Fabio and Rafael Da Silva
The Brazilian brothers are the toast of twins in football as they played at the highest professional level, playing for Manchester United in the Premier League.
2. Lars and Sven Bender
Both players managed to reach the highest level over in Germany in the Bundesliga as they ply their trade for German Bundesliga outfit Bayern Leverkusen. The Bender brothers were part of the German team that got the Silver medal at the 2016 Rio Olympic games.
3. Hamit and Halil Altintop
Hamit and Halil completed their dream of playing in the same team, with both playing at Schalke 04. While Hamit went across to Spain to play for Real Madrid, Halil had a long and successful career in Germany with the famous club.
4. Rogelio and Ramiro Funes Mori
One is a striker and the other a defender who plays for Everton in the English premier league, and they both played for River Plate in Argentia before immigrating across to Europe.
5. José and Juanmi Callejón
While the Jose, the ex-Madrid star is the more famous out of the two, both passed through Real Madrid's famous 'merengue' academy.
6. Frank and Ronald de Boer
Having been retired for quite a few years now, the defender and central midfielder played together at Ajax, Barcelona and for Holland's national team. These two are probably the most famous footballing twins in the world. Frank was maybe the better out of the two but both had long and successful careers.
7. Marouane and Mansour Fellaini Marouane is the popular twin who plays for Shandong Luneng in China.
8. Florentin and Mattias Pogba
While most football fans are more than aware of the world's most expensive midfielder Paul Pogba, not many know his older twin brothers who are professional footballers themselves.

Florentin and Mattias Pogba have also established a decent footballing career for themselves - with the former having the more successful career of the two, having played in Ligue 1 for St Etienne since 2012.
9. Nazim and Kalim Amokachi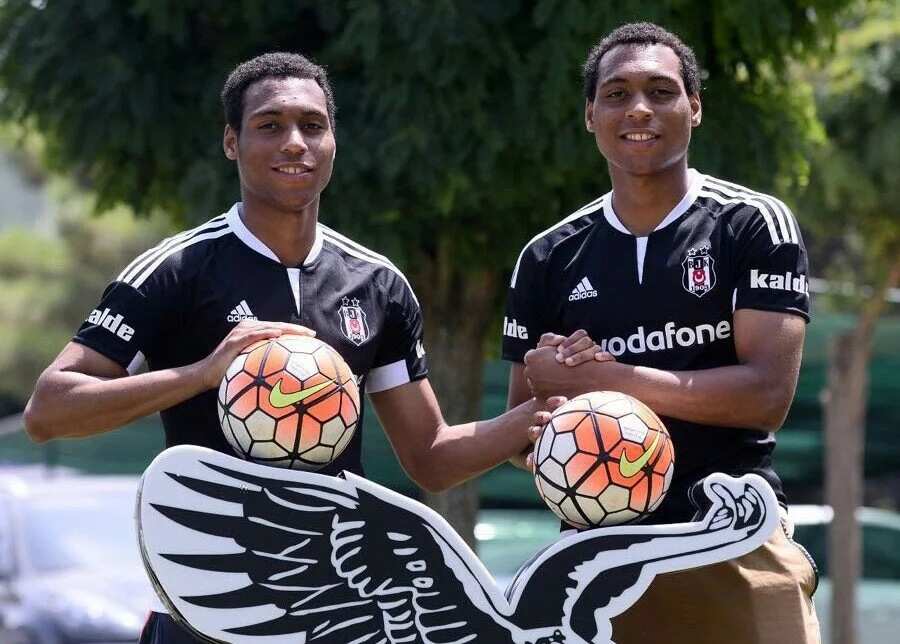 Former Super Eagles star, Daniel Amokachi has twin sons Nazim and Kalim Amokachi playing for Turkish champions Besiktas. 
10. Hossam and Ibrahim Hassan
These Egyptian twins have played at the same level, and for the same clubs, as each other for most of their careers.
Both twins played into their early 40s.
12. Will and Michael Keane
In September 2016, Will Keane and his twin brother Michael became the first ever twin brothers to play against each other in Premier League. The clash ended 1-1 between Hull City and Burnley. Michael who is a central defender was signed by Everton. The two came through the ranks at Manchester United youth system.
13. Martin and Marcus Olsson
The Swedish twins Martin and Marcus Olsson played 10 matches together at Black Burn Rovers in 2011/12 season. Martin Olsson currently plays for relegated side Swansea City. He joined the Welsh side in January 2017. He has played 45 times for his country as a left back. In fact, he played in Russia World Cup 2018 as his country reached the quarterfinals.
On the other hand, his brother Marcus Olsson has not enjoyed a lot of success for both club and country. He currently plays for Championship side Derby County. The defender can still play for Kenya national team because he has never played a competitive match for Sweden. The mother of the twins comes from Kenya.
14. Jacob and Josh Murphy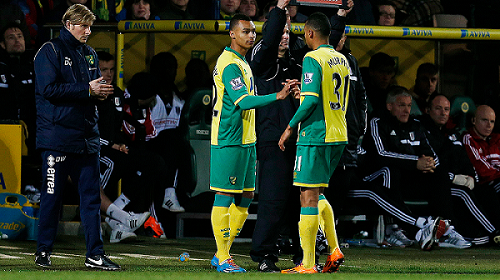 They worked their way through the ranks at Norwich City before Jacob (left) joined Newcastle in 2017 and Josh joined Cardiff.
READ ALSO: Top 10 richest football stars in the world 2019