Lucy Quist, Vice President of the Ghana Football Association's Normalization Committee has made a retraction minutes after she flatly denied media reports that the Zylofon Cash Premier League sponsorship document cannot be found.
In the twist of event, she took to her Facebook page to retract the comments she made on Joy FM Super Morning show that the documents have been seen at the Ghana Football Association secretariat sparking more confusion in the media.
Earlier, Dan Kweku Yeboah who is the spokesperson for the Normalization Committee claimed the committee is yet to sight the document containing the contract signed between the Kwesi Nyantakyi-led administration and Zylofon cash.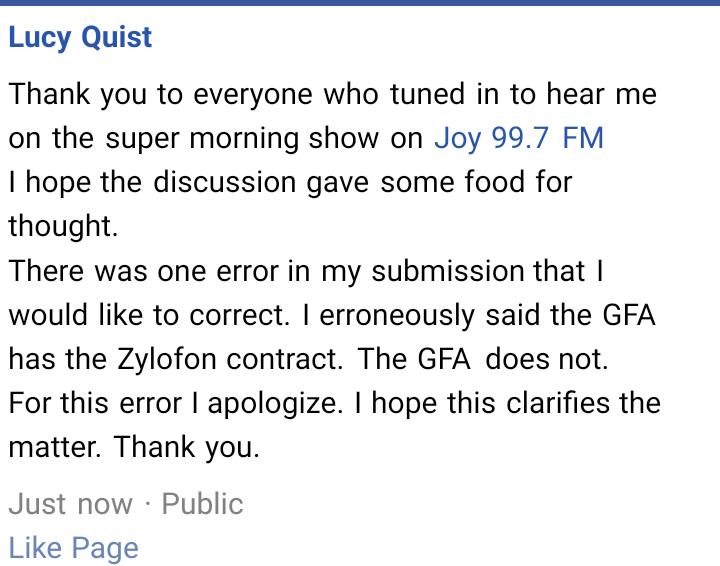 Lucy Quist has now confirmed that she and her committee have not seen the agreement between the GFA and Zylofon Cash which was a sponsorship for the Ghana Premier League last year.
She took to her Facebook page to apologise for her earlier comments on the contract.
Zylofon Cash signed a 5-year deal with the then Ghana Football Association last year to sponsor the truncated Ghana Premier League for a stunning $10 million.
Read also: Normalization Committee's VC, Lucy Quist debunks missing Zylofon Cash contract reports
Mrs Quist is part of the four-man team appointed by FIFA in August to run the day-to-day activities of Ghanaian football following the dissolution of the Ghana Football Association in June.