Thousands of mourners have gathered to pay their respects to Brazil legend Pele who is lying in state at the ground of his former club Santos.
Pele's coffin was placed in the centre of the pitch at the Urbano Caldeira stadium in Sao Paulo, with fans lining the streets to get inside the ground.
The three-time World Cup winner died at the age of 82 on 29 December.
There will be a procession through the streets of Santos to a private family burial on Tuesday.
"We're going to ask every country in the world to name one of their football stadiums with the name of Pele," said Fifa president Gianni Infantino, who attended the memorial.
Brazil's government declared three days of national mourning after Pele's death.
Pele, arguably the world's greatest ever player, had been undergoing treatment for colon cancer since 2021.
'There will be no one else like Pele' - fans pay tribute
Thousands of fans gathered on the streets as the hearse arrived at the stadium on Monday morning, with some queuing overnight to see the coffin.
Former Brazil midfielder Ze Roberto and Pele's son Edinho helped carry his coffin while floral wreaths were sent by Neymar, Vinicius Junior and Real Madrid.
Beatrice woke up at six in the morning to travel with her husband from the city of Soracaba to Santos, and had been waiting for more than two hours in the queue.
"I'm determined to pay my final respects to him," the 56-year-old told the BBC.
When asked what Pele meant to Brazilians aside from football, Beatrice said he had helped unite modern Brazil, breaking through racist standards in Brazilian society to open the world of football and wider society to black Brazilians.
Wilson Genio queued with his 13 year old son Miguel, carrying white roses and a family treasure: a Santos Football Club flag personally signed by the legend himself.
The flag reads: "To the family Genio, your friend Pele".
The Genio men had travelled overnight with the hearse carrying Pele's body from Sao Paolo. "We followed him all the way. We've been here since 3.30am," they said.
"We could pass another 1,000, 2,000 years and there will no one like Pele. He's the one and only legend."
'The whole city is drawn to the stadium'
It is baking hot- about 30 degrees in Santos, but it feels like the whole city is drawn to the heart of Vila Belmiro stadium where Pele's coffin lies.
A steady stream of mourners pass through the centre to pay their final respects - sometimes a smattering of applause breaks out as they pass his coffin. People from all over Brazil - and the outside world - have come. I spot a Mexican flag, a Dutch pin.
There are several news helicopters buzzing overhead. People are dressed in the striped black-and-white jerseys of the Santos Football Club - Pele's team - or in Brazilian national team yellow jersey.
Pele's voice blasts over the stands in the stadium - his 2006 song "Meu Legado", meaning My Legacy, is playing on repeat.
Outside the stadium, a queue of thousands snakes for kilometres across half a dozen city blocks. It is a two-hour wait in the midday sun.
Men have taken off their shirts to wrap around their heads like bandanas. Others are fanning themselves with the tribute newspaper printed just for the day. Some have come prepared with hats, umbrellas and their tributes.
Sometimes a Mexican wave ripples through. There are occasional chants of Pele! Rei! But mostly, the crowds are patient in the heat, waiting for their turn to say goodbye.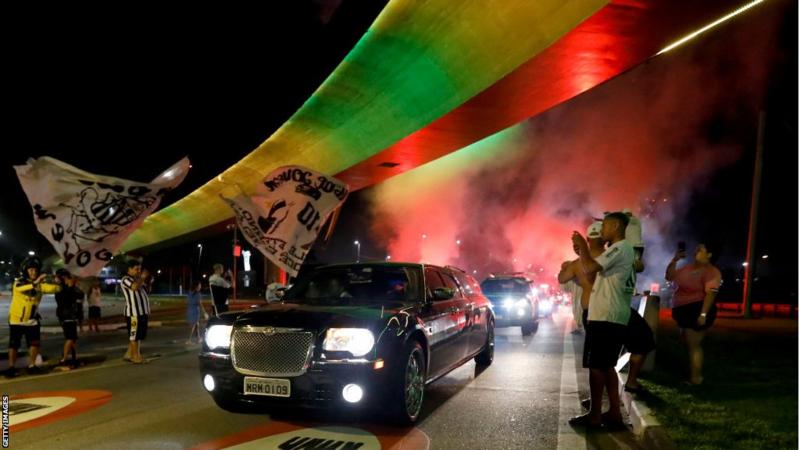 Hundreds of fireworks were set off on Monday as Pele arrived at Santos' stadium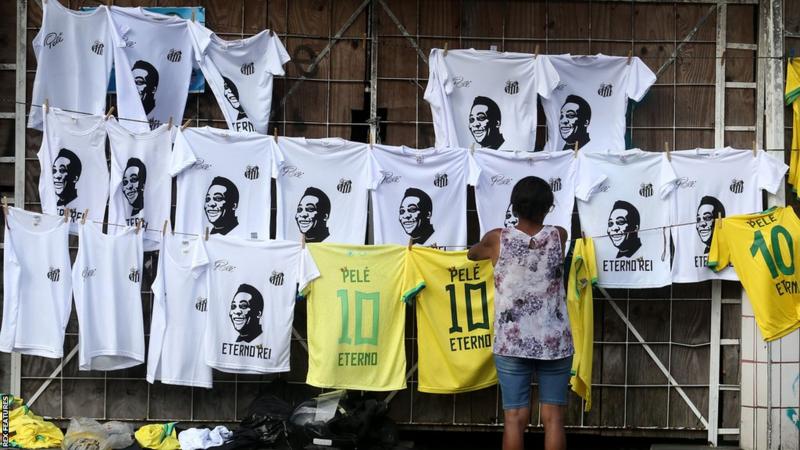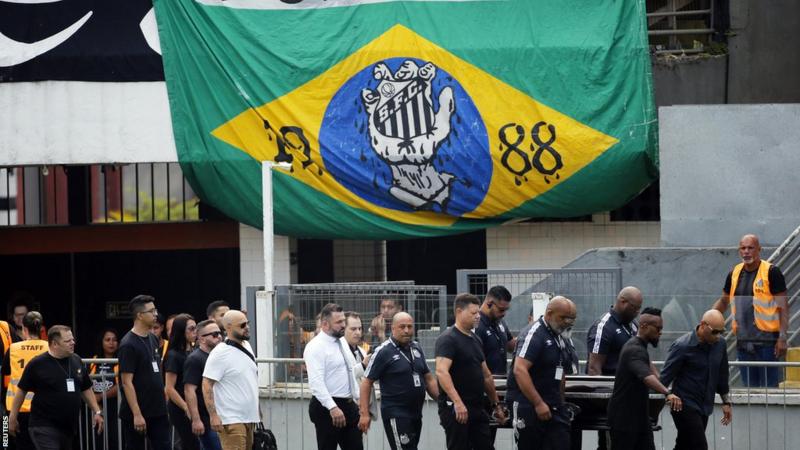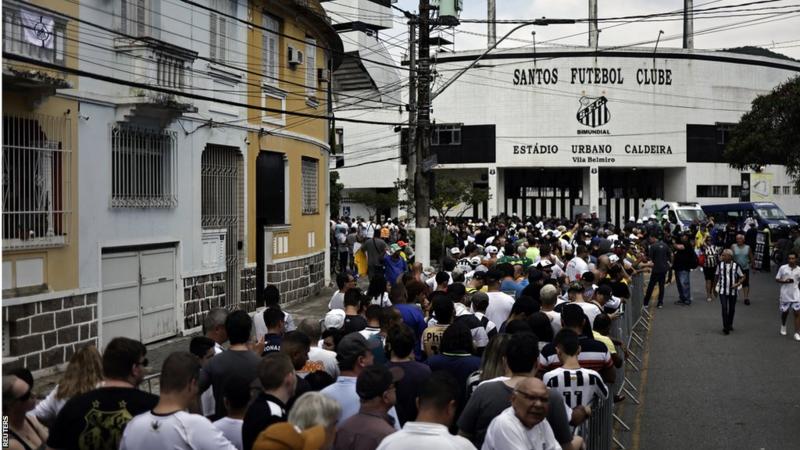 Pele's body will lie in state at Santos' stadium for 24 hours for the public to pay their respects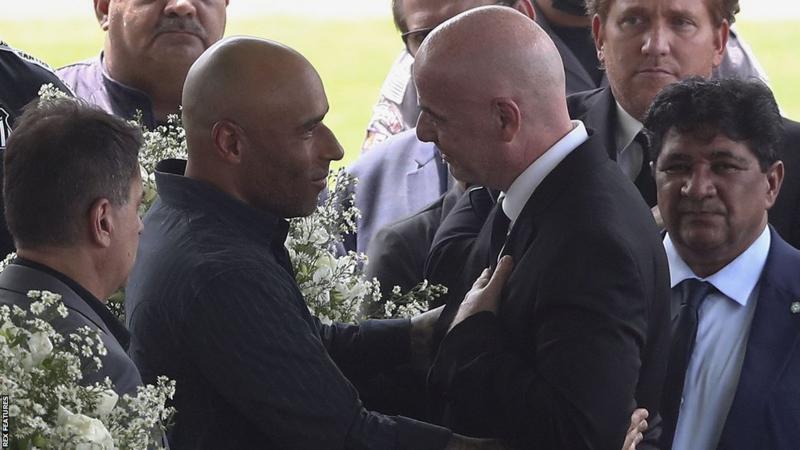 Fifa president Gianni Infantino attended the memorial