Deontay Wilder insists a potential fight with Anthony Joshua will take place with a 50-50 split.
Joshua's promoter Eddie Hearn and Wilder's manager Shelly Finkel have both blamed the other as a potential unification fight failed to get signed for this year.

Joshua posted a picture of himself upside down earlier this week in which he said: "I've just been hanging around waiting for a signature". Now Wilder has responded to AJ and Hearn insisting that the anticipated heavyweight title fight will take place.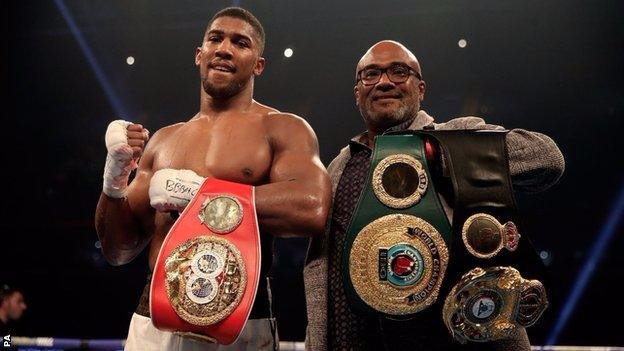 "I think the fight will be made," Wilder told Premier Boxing Champions. "Just that this time around when you come to the table, you'll have to come correct. This will be a 50-50 fight. And that's the bottom line."

While Hearn has stated that the $15 million offer to fight Joshua is still on offer, Wilder hit back saying he will not sign a one-sided contract.

"We've tried everything... I'm not going to sign a contract that doesn't have a date, that doesn't have a venue," he said.

"Nah, that's one-sided. This contract is straight blind, one-sided, anyone who's talking about 'just sign it' you can kiss me where the sun don't shine, baby, because that ain't never happening."
Read also:Deontay Wilder says he has agreed to fight Anthony Joshua next in the UK
While Joshua is expected to announce a fight against Alexander Povetkin for September, a likely opponent for Wilder is rumoured to be Dominic Breazeale.
Source: ESPN