Brazil has recorded its highest daily rise in infections and deaths since the coronavirus outbreak began in the country.
Health officials reported a further 17,408 cases and 1,179 deaths in the past 24 hours.
In total, 271,628 infections and 17,971 deaths had been confirmed as of Tuesday, health officials said.
The country, which is the epicentre of the pandemic in Latin America, has the third-highest number of infections worldwide, after Russia and the US.
Health experts say the true figure may be far higher due to a lack of testing in the country. They fear the outbreak could overwhelm Brazil's health system in the coming weeks if cases continue to rise.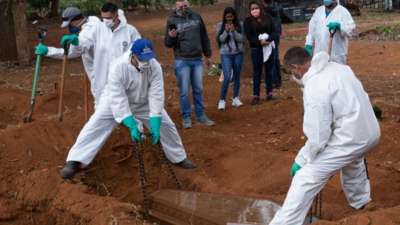 Brazilian President Jair Bolsonaro has repeatedly downplayed the threat of the coronavirus and criticised governors and mayors for adopting strict restrictions to curb its spread.
Source : BBC