At least three people have died as Florence mauls the US East Coast, knocking out power to 600,000 homes and causing buildings to crumble.
A mother and child were killed when a tree fell on their house in Wilmington, North Carolina. The father was transported to hospital with injuries.
Dozens of people were rescued from a collapsing hotel as a storm surge toppled trees and swamped streets.
Florence has been downgraded from a hurricane to a tropical storm.
Three deaths have been officially confirmed. Officials had earlier linked four deaths to the storm.
North Carolina Governor Roy Cooper said at a news conference on Friday evening that "several more deaths are under investigation". Medical examiners at the local and state level will determine whether deaths are storm-related.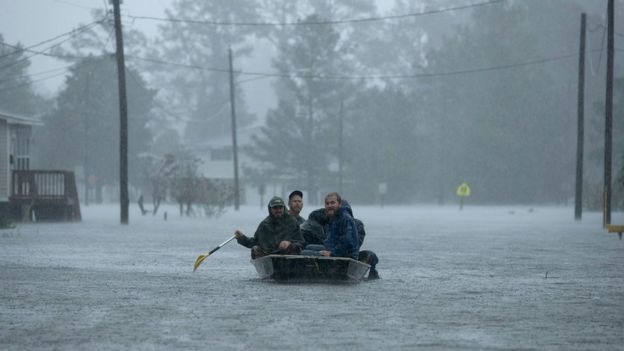 Evacuation warnings are in place for 1.7 million people.
Florence is packing sustained winds of 70mph (110 km/h), according to the National Weather Service.
The storm's third fatality claimed a person who was killed while plugging in a generator in Lenoir County, according to the governor's office.
A woman in Pender County, North Carolina, who had a medical condition called for emergency assistance, but ambulance workers could not reach her in time because fallen trees blocked their route. It is unclear if officials are attributing her death to the storm.
Florence made landfall at Wrightsville Beach, North Carolina, on Friday morning as a category one storm.
North Carolina Governor Roy Cooper told a news conference that whole communities "could be wiped away" by the 400-mile-wide hurricane.
"It's an uninvited brute who doesn't want to leave," he said.
Credit:BBC