President Donald Trump has hailed a "big victory" in US mid-term elections which saw Democrats seize of the House of Representatives but Republicans consolidate their grip on the Senate.


The Democratic majority in the lower chamber will be in a position to block Mr Trump's legislative programme.

But controlling the Senate ensures Mr Trump can still make key appointments.

The vote was seen as a referendum on the president, even though he is not up for re-election till 2020.
The result confirms a historical trend for the party that is not in the White House to make gains in the mid-terms.

But despite the losses in the House, Republicans could point to an increased majority in the Senate.

This is arguably more significant, says the BBC's Aleem Maqbool in Washington, because Mr Trump focused his campaigning on Senate races and candidates he backed clearly benefited.

Mr Trump will now feel that his base has endorsed his actions over the past two years, our correspondent says.

Early on Wednesday, Mr Trump tweeted that he had been congratulated by supporters across the US and beyond.
It was not clear which foreign countries Mr Trump was referring to.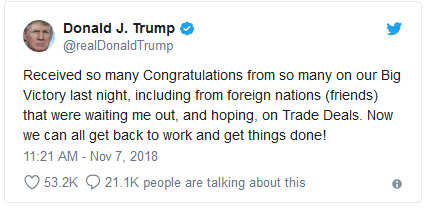 House Democratic leader Nancy Pelosi promised that her party would serve as a counterweight to the White House.

Ms Pelosi - who is set to become speaker, a position she held from 2007 to 2011 - told supporters: "Today is more than about Democrats and Republicans, it's about restoring the Constitution's checks and balances to the Trump administration."
What difference will the new Congress make?

The Democrats gained more than the 23 seats they need to take over the 435-seat lower chamber.

They could now launch investigations into Mr Trump's administration and business affairs, from tax returns to potential conflicts of interest.

The Democrats could also more effectively block his legislative plans, notably his signature promise to build a wall along the border with Mexico.

In the Senate, Democrats were always facing an uphill battle this year because they were defending 26 races, while just nine Republican seats were up for grabs.

The Republicans are on course to increase their representation from 51 to 54 in the 100-seat Senate upper chamber.

Source: bbc