Nearly 50 people have died in wildfires in the eastern part of the Attica region around Athens, in Greece's worst fire crisis in more than a decade.
 According to the local mayor, 26 bodies were found in a yard in the seaside village of Mati, which is at the center of the disaster.
The fire brigade confirmed an overall death toll of 49, with many of the dead believed to be young children.
Many calls have been made to the rescue services looking for missing persons.
As part of a huge rescue effort, emergency workers used boats and helicopters to evacuate a beach.
Hundreds of firefighters have been battling the blazes and the authorities are seeking international assistance.
"We will do whatever is humanly possible to control it," Prime Minister Alexis Tsipras told reporters.
Fire swept through the village 40km (25 miles) north-east of Athens on Monday and was still burning in some areas on Tuesday morning.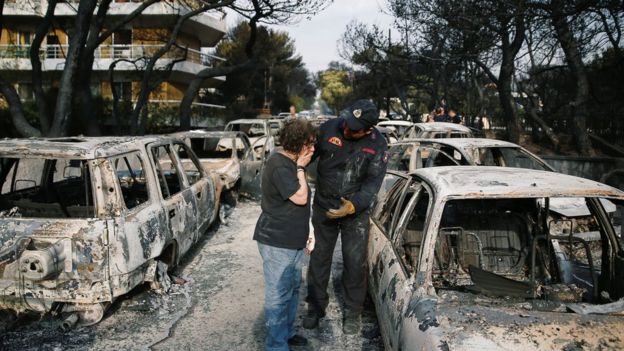 Desperate families trying to reach the safety of the sea, just metres away, were trapped by walls of smoke and flame. Others died in buildings or cars.
Coastal patrol boats and private vessels picked up hundreds of those who did manage to reach harbours or beaches.
"Thankfully the sea was there and we went into the sea because the flames were chasing us all the way to the water," said one survivor, Kostas Laganos.
"It burned our backs and we dived into the water... I said, 'My God, we must run to save ourselves.'"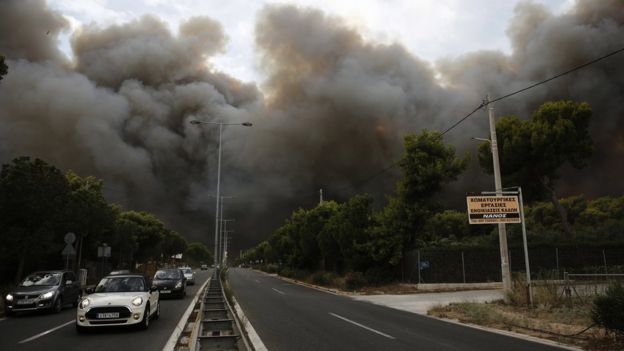 The village is located in the Rafina region which is popular with local tourists, especially pensioners and children attending holiday camps, Reuters news agency notes.
Charred bodies in the yard were lying just 15m (50ft) from the sea, photographer Pantelis Saitas told the Athens-Macedonian News Agency.
At least 150 people were injured in the area.