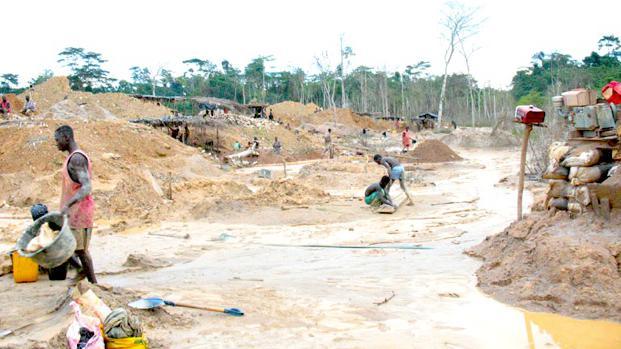 Director responsible for public affairs and environment at the Ghana Chamber of Mines, Ahmed Nantogmah, has called for the immediate eviction of illegal miners trespassing on mining concessions.
 
This follows the recent clashes between illegal miners and officials of Anglogold Ashanti (AGA) on their mining concession in Obuasi which led the tragic death of John Owusu, the AGA Communications Manager.
Officials at AGA say their concessions have been invaded by illegal miners in recent times, putting the lives of workers and even security officers at risk.
Speaking on Citi Eyewitness News, Mr. Nantogmah insisted that the trespassing illegal miners have to be sacked as a matter of urgency saying, "Those trespassing must be evicted as soon as possible. They must be evicted."
He is also of the view that the illegal miners may even be receiving backing from some powerful individuals judging by the equipment they have access to.
"Definitely, if you look at the history and these huge $100,000 dollar excavators, those people there cannot afford them. Definitely somebody is bringing those excavators in. Somebody is providing them with the dynamite and all the things that they need especially the illegal ones."
Mr. Nantogmah stressed that there is a distinction between the illegal miners and small scale miners, adding that the Chamber of Mines supports legal licensed small scale mining and even by law, all Ghanaians are entitled to mining concessions.
"We have to differentiate. We have the regular licensed regular legal small scale miners who are going about their business in an environmental friendly manner and we have the others who are just around the place and anywhere they hear there is gold, they rush there and do what they can do and then disappear. Those are the people who are actually fermenting the trouble," he explained.
"What we don't want is anybody trespassing on somebody's concession… the trespassing is where they issue comes in because if you trespass on somebody's concession then you are breaching then law."
Mr. Nantogmah underscored the threat posed by illegal miners saying the town of Obuasi was in a delicate situation given their unregulated activities of illegal miners.
"… Also as the illegal miners are there and they are blasting without any regulation, no control from anybody, they can even blast and affect the underground and Obuasi is sitting on tunnels."
He further stated that the town of Obuasi was sitting on a "time bomb,"adding the unregulated activities on the part of illegal miners, could end up in disaster.
"Obuasi has mine tunnels under them and if one of the pillars should break, the whole town will sink. So we are sitting on a time bomb and if we just allow them to just go about their duties without control, something more drastic could happen," he warned.
citifmonline.com