It seems the back and forth issues between organisers of the Vodafone Ghana Music Awards and music group, Praye is not ending anytime as the group has reacted to George Quaye's claims that they (Praye) don't deserve a VGMA nomination. 
The Communications Director of Charter House, George Quaye after Praye called out the organisers of the VGMA that they deserve to be nominated for Best Group of the Year category took to his social media page to respond and said that the fact that they exist as a group and release a song that translates as 'Noise' doesn't guarantee them a VGMA nomination.
However, the music group (Praye) after George Quaye's post have also reacted in a very lengthy post available to PrimeNewsGhana.
In the post, Praye described George Quaye as" A P.R who lacks intellectual depth and curiosity"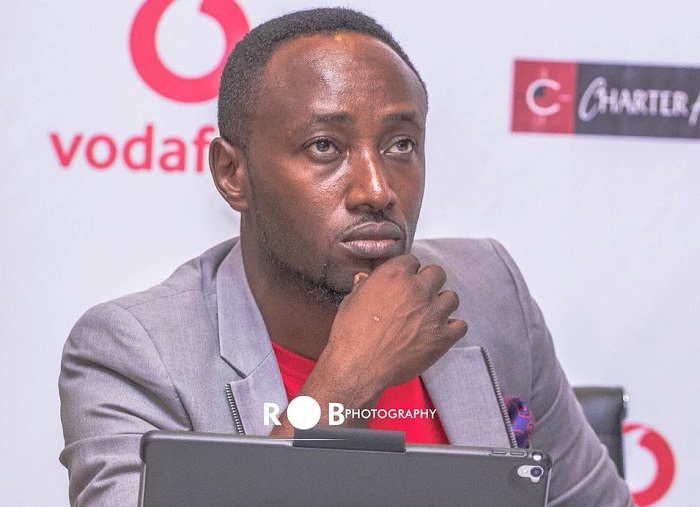 Read Also: George Quaye hit hard at Praye over 2019 VGMA nomination
Read the full statement below: 
Dear Aboagye aka George Quaye we have read your very long "sensible" letter on your Facebook wall. At least now everyone knows charterhouse did have pity and accepted you back after you left Zylofon, where you were underused and you literally became a bitter bitching woman about your co-workers to everyone who had ears to listen.

Let us all congratulate ourselves for our comebacks. We believe you and us, we all need this "rantings" here on SM to be relevant again.ý

Apart from spewing gutter rubbish everytime a hard working artiste raises concern about Ghana music awards, you should dedicate some of the worthless time you have on your hands in researching to know that the legendary group PRAYE first won KORA ALL AFRICAN MUSIC AWARDS on the first year of release in 2005, very significant isn't it? before we swept Ghana music awards in 2006, 2008 and in 2009 where you were by then treking to set for taxi driver series making a fool out of yourself particularly and giving us good laughs on TV.

Moving from one place to another and running when there's heat. Lol. We see you. We feel you man.
your opportunistic self is the real deal. even with Ghanaian artiste.

...Begging celebrities for transport and association then. Little did we know it was just a matter of time for aboa konkotiba to become an arrogant aponkyer3ni today.

On behalf of the whole Praye team we Express our deep appreciation to charter house for your employment. it took you off the streets.
Comedy isn't music. Put on your thinking cup and come again Aboagye. This new found passion of opening stinking mouths to insult artistes on your walls in order for you to trend is becoming old like yourself at charter house.

Even Artise of the year category is a greater part per your presence, demand, shows and impact you made in the year under review even if you didnt have "a monster song" playing everywhere as you put it.

When "One Corner" became a local and international monstrous hit did you give it an award? Lol.

Buju Banton just made history in the world as staging one of the biggest concert in the history of Jamaica. A Comeback concert without a "monstrous hit song". Is this making any sense to you so far? Maybe not but we don't have that much time...

Leave a good legacy and be remembered, revered and respected and honoured a lifetime.
And again this is not for toddlers in the music industry to comprehend.

Yes Praye is ranting.
Coming back together as a group who was and is deeply loved by our fans, on it own took a lot. Something only deep minded music enthusiasts will know. Mounting major shows and platforms to perform even old tunes and still dishing out performances that left the country talking for days, that alone ........... and to add the release of a song that enjoyed air play thanks to the media houses and DJs who understand the magnitude of a comeback as a group.

A solo artiste can decide to go into "hibernation" or take a break for years and release anytime.
This is a different case of a group who went their solo ways coming back together into a new era and still making strong impacts all within the year.
These points are being raised as pointers towards your group of the year category.


But of cos a PR who lacks intellectual depth and curiosity, who thinks monster hit songs is all it takes wouldn't understand this. You're still a baby when it comes to knowledge of music and how it's made.

Yes we these same three good looking talented men you came begging to perform at vgma and we did end up saving your show, we are here ranting in every matured way as we can. And again you lack the ability of mouth control and so wouldn't know what maturity is.

Praye is back. Brace yourself.

It's @prayeghana on all social media platforms.
Read Also: Chaterhouse 'mafia' us - Praye disappointed
Entertainment news on Prime News Ghana