Actress Moesha Boduong has made a prophecy about Hajia4Real, stating that one of her songs from her EP will be her breakthrough in the music realm.
The former socialite, who for almost seven months went off from social media and anything related to it, has in line with her new journey with God revealed that God gave her a message to translate to singer Mona Faiz Montrage, aka Hajia4Real.
Moesha in the comment section of Hajia4 Real's Instagram post on Tuesday said God had revealed to her that she is about to hit her stardom, all she needs to do was to focus on her music and also pray to God often.
"Your song fine girl will make you a big star. Keep loving God and you will come back and people will love you. God has sent me to tell you this. Put God first in everything you do. Love God with all your heart and love God", Moesha wrote.
READ ALSO: Former slay queen Moesha Bodoung recounts experience with the 'devil'
In reaction, Hajia4Real thanked her for her message and further wished her well.
"Thanks, Moe. God is good", Hajia4Real stated.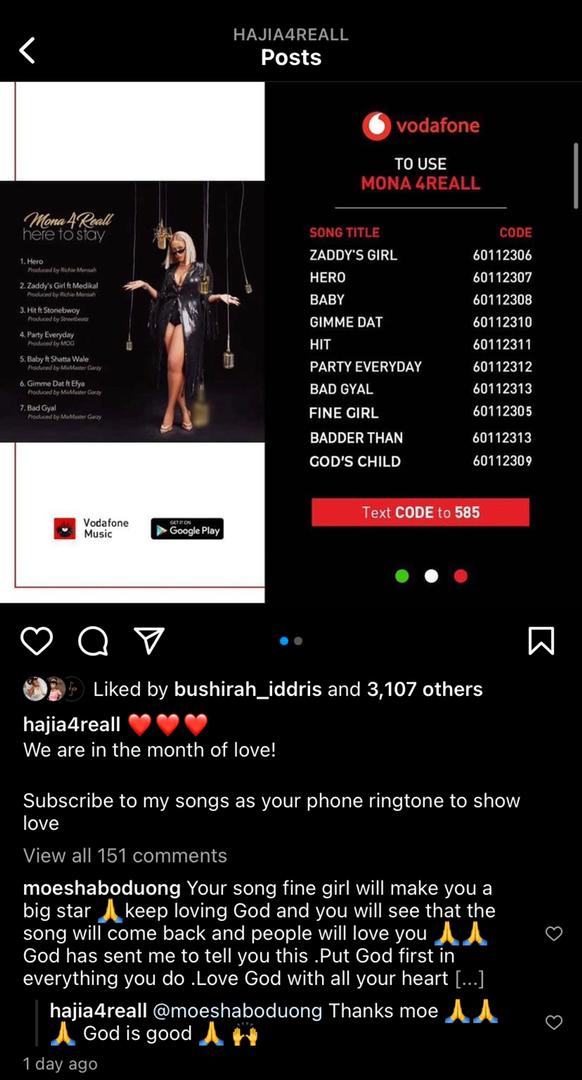 Before her break, Moesha made some startling revelations about the life she lived over the years after becoming well-known in the country.
In a viral video, the actress said she attempted to commit suicide by jumping off an uncompleted storey building but was stopped by some workers nearby.
She announced her repentance in another video as she shared her testimony.
To walk the talk, the social media influencer deleted all the photos that captured her skimpy dresses on her Instagram page.