The smell of fish, the sounds from aboard motors and the mild waves from the ocean, paint a cinematic picture of a busy working day at Prampram's landing beaches.
It was a Saturday morning and Abraham, a fisherman, patiently waited for his canoe to dock. Most canoes are anchored offshore until the fishermen are ready for the day's business before they are brought onshore and prepared for the day's activity. Abraham, who wore a light orange t-shirt with a winter jacket on top, loaded the canoe with two white barrels, one containing water and the other food items, and a gallon of premix product. One of his colleagues, who kept cranking the aboard motor in readiness for the day's work, hilariously gave one of his colleagues the middle finger.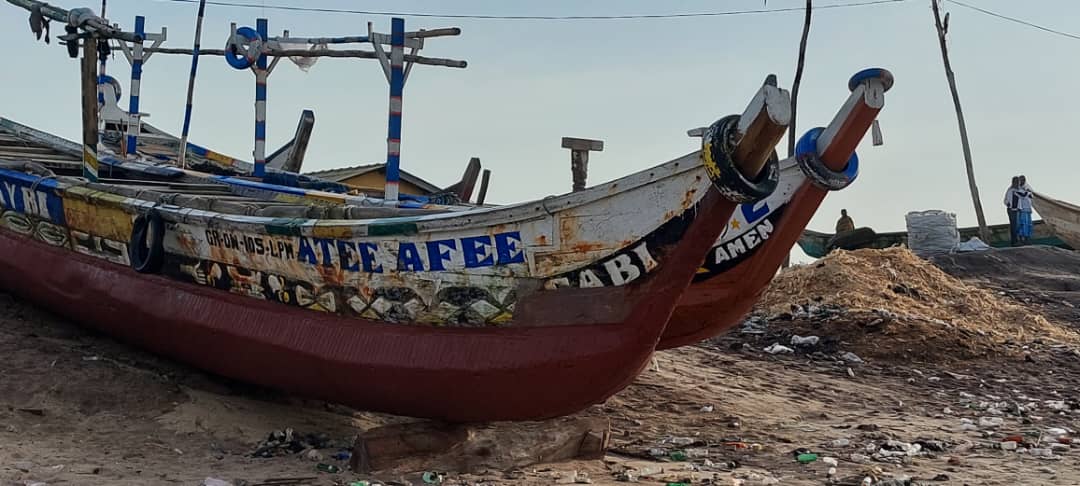 He yelled back with a vulgar but popular Ga-Dangme word that appears to have gained currency as a blandishment.
Other team members jumped into the canoe and headed west. Other canoes soon took after them. On the canoe of Abraham is the biblical phrase "Mawu Dzi Oti" or God is the greatest. It is written in Dangme.
Phrases on canoes are very common and at almost every landing beach in the country, not limited to Prampram, artisans who put wood pieces together into a canoe fit for fishing, often inscribe them. These phrases often emanate from biblical quotations, motivational messages as well as the names of their spiritual heads. There are also names of biblical prophets. And then there are those canoes which have clan names.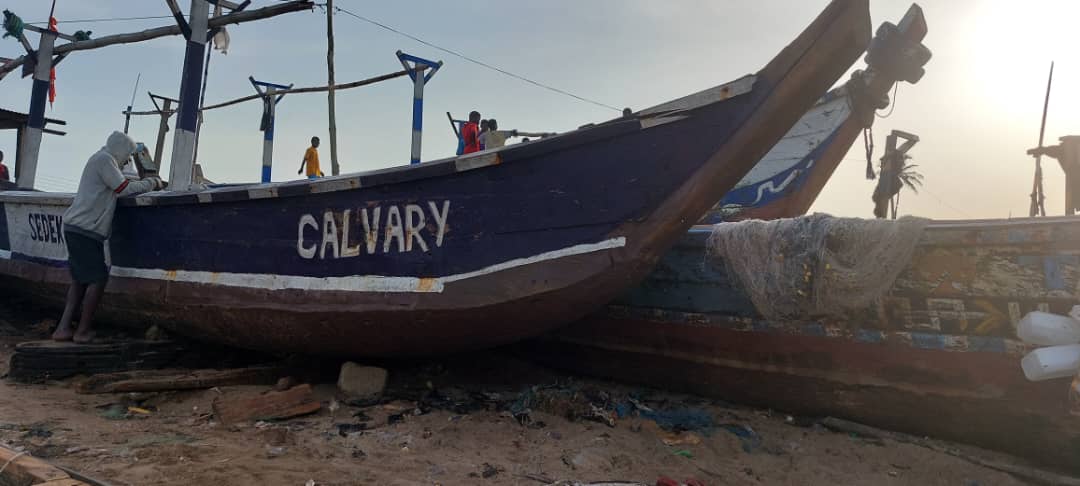 Those canoes with spiritual or biblical inspired phrases were: "Heko Ejorko" or nowhere is easy. Isaiah 41:10, 'Kpoo K3k3', El Shadai, "Blema Tesa," Agboo Ayeee" Aabunaa, Calvary, Akpele Mawusi, Mawu Be Ji Be, Atee Afee or we don't hide and plan,Oblayoo Kpanaa, Yehowa Dzi Mehewale and many more. For first timers who may not necessarily be familiar with the faith of the occupants or the canoe or even the owner, the biblical phrases give indication of what their beliefs are.
Apart from the biblical names, there were those canoes, not many of them I saw, which had popular phrases such as "Jealousy go shame," "Dzi Wofie Asem" "Esabo", "I am ugly and so what", Faa ni obuu L3", "I walk Alone", 'Ka Shi Me'.Naabu Agbo", "Poor No Friend", "Abobonua" Ayekoo, Sea Never Dry, Wait and See, Had I Known, Travel & See,
and Cry Your Cry. , Bie Ashweo Ye "Yoomo Buei" ! and many others written in the Ewe language.
Perhaps one that caught my attention and cracked me up was "Yaa bi Onye" or 'Go and ask your mother'. This is a popular phrase that could mean different things to different people. Depending on how familiar one is to another person, using "Yaa Bi Onye" will not constitute an insult. But to a stranger who may not necessarily be familiar with you, telling off the person using the phrase could spark trouble.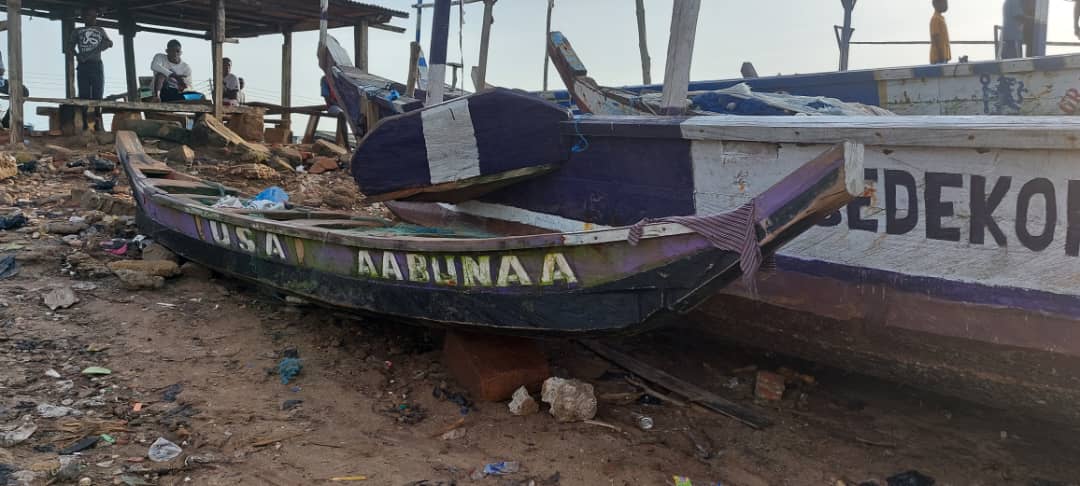 "It cracks me up anytime I see this very canoe," one fisherman who had just emerged from swimming inside the ocean, told me.
"These canoe writings often reflect our own faith in God," he said. "It does not necessarily mean the person is either a Christian or Moslem or prays through the ancestors, but it shows how spiritual people are."
According to Dutch Anthropologist Jojada Verrips of the University of Amsterdam's Department of Sociology and Anthropology, in his paper "Ghanaian Canoe Decorations", said phrases on canoes were used to express identifications, relations or express particular sympathies with clubs, companies, parties, persons, places, religions and worldviews.
"The texts are messages and statements, though sometimes cryptic ones, which are used to characterize and distinguish, to tease and challenge, to criticize and joke, to invoke and ward off. Together with the other decorations they turn the canoe – this crucial means of production on which the existence and lives of the fishermen and their families depend – into a 'speaking' object, an entity with a 'voice', a 'messenger', or a vehicle of meaning with a particular identity."
Exploring the often-held belief that the trees out of which canoes are carved and later pieced together, have spiritual significance to the actual fishing itself, he said the use of the text symbols reflects the tendency to treat important means of production as something more than just woods, but living things whose life span have been truncated, and to compensate their unsettled spirits, a spiritual cleansing is often performed before the canoes are released into the sea.