As there are inadequate amount of ICUs in our hospitals and a large number of suspected and confirmed COVID-19 patients are being turned away despite struggling to breathe, medical professionals have recommended a number of health tips and tricks that might come handy during the pandemic.
One of such tips provides an easy way of keeping a patient's oxygen level in check and also keeping the lungs healthy. This tip is termed as proning.
What is proning and how does it help in improving healthy living in the midst of the COVID-19 pandemic?
Proning' is a medically accepted position to improve breathing comfort and oxygenation in COVID-19 patients. Jack Stewart, the Medical Director and Pulmonologist at St. Joseph Hospital in California defines the term as basically meaning 'putting a patient in the prone position, or flat on their belly with their chest and face down, rather than on their back.' Proning believed to be enormously beneficial to COVID-19 patients, especially those in home isolation due to the fact that it is enough to be practised at home.
Research shows that proning or prone - positioning has been used for more than three decades by medical professionals to improve clinical outcomes for those suffering from Acute Respiratory Distress Syndrome (ARDS), the lung condition that patients with severe COVID-19 cases develop. The ARDS is a life threatening complication of coronavirus infection that manifests as shortage of breath which then quickly progresses.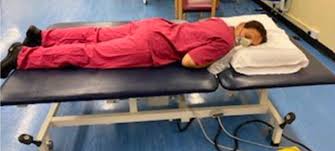 A 2020 study published in JAMA Internal Medicine titled 'Risk Factors Associated With Acute Respiratory Distress Syndrome and Death in Patients With Coronavirus Disease 2019 Pneumonia in Wuhan, China' suggests that more than 40% of individuals in the study hospitalized for severe and critical COVID-19 developed ARDS—and over 50% of those diagnosed died from the disease. But when the proning technique was employed, COVID-19 patients who could position themselves in a facedown, prone position while awake and supplied with supplemental oxygen were less likely to need intubation and mechanical ventilation as reported by Columbia University;s Irving Medical Centre.
In India, a venerable 82-year-old woman is reported to have been recovering from the COVID-19 infection using the proning technique at home in Uttar Pradesh. This gave hope to the large number of people in India as the second wave of COVID-19 pandemic swept the entire country leaving a lot of people gasping for oxygen.
Can the proning technique be replicated in Ghana? How can it be done?
Yes. The proning technique can easily be replicated in any part of the world without stress or difficulty. This is due to the reason that proning requires little or no equipment and the technique may prove to help patients who are critically ill avoid being put on ventilators for breathing assistance.
In order to practice the proning technique safely, follow these steps
1. Start with lying on your belly for 30 minutes to 2 hours and then lie on your left and right side respectively for a similar length of time.
2. Go back to lying on your belly for 30 minutes to 2 hours and then spend up to two hours sitting up.
3. Use multiple pillows: one below the neck, one or two below chest through upper thighs and two below shins.
4. Regularly alter lying positions—it is advisable not to spend more than 30 minutes in one position.
These steps to effective proning as mentioned earlier is very beneficial to COVID-19 patients especially those in home isolation since it is simple enough to be practised at home. However, care needs to be taken as the technique is not suitable for all patients such as pregnant women, morbidly obese people or those with facial injuries.
This story is supported by Journalists for Human Rights under the Mobilizing Media to Fighting COVID-19 project