12 new Lassa Fever have been recorded pushing Ghana's case count to 14.
The cases were revealed after the GHS traced 56 contacts of the initial two cases confirmed on Sunday, February 26, 2023.
The active cases of Lassa Fever in Ghana now stands at 13.
One person has so far died from the disease.
READ ALSO: GHS confirms two cases of Lassa fever; one dead
"This brings to 14 the total number of confirmed cases for the outbreak... One death has so far been recorded. All 13 cases are alive and in stable condition and are being managed in designated health facilities. A total of 97 contacts have been identified and efforts are underway to identify more contacts," a statement dated February 28, 2023, and signed by Director General of GHS, Dr Patrick Kuma-Aboagye said.
He added that "a probable case has been reported from Central Region and contacts are being identified and monitored while we await confirmation. Psychological support is being provided for all cases and contacts."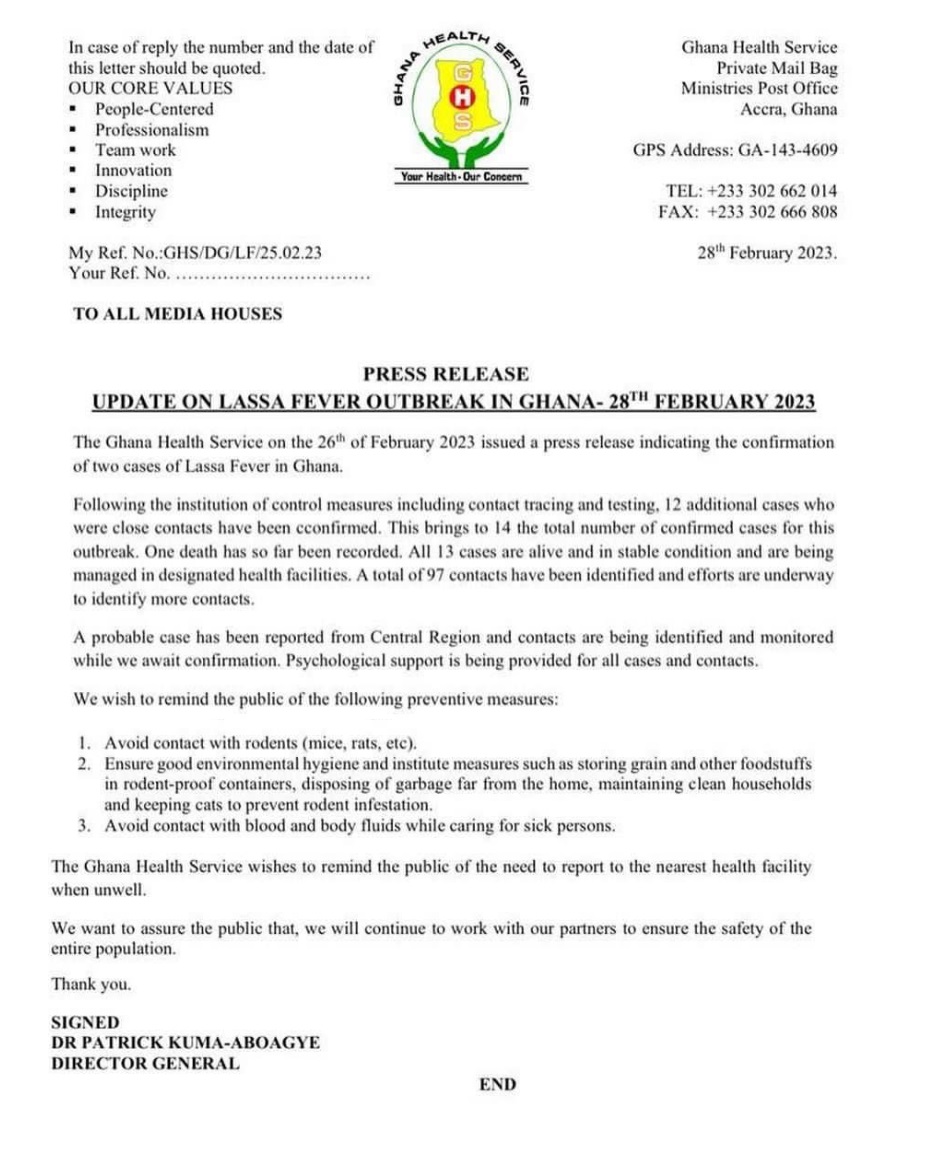 BRIEF FACTS ABOUT LASSA FEVER
• Lassa fever is caused by the Lassa virus and the incubation period is 2-21 days.
• The virus is transmitted to humans through contact with food or household items contaminated with rodents (Rats, Mice) urine or faeces.
• Lassa virus may also be spread between humans through direct contact with the blood, urine, faeces, or other bodily fluids of a person infected with Lassa fever. Sexual transmission of the Lassa virus has been reported.
Symptoms of Lassa fever
The early symptoms of Lassa fever may include fever and general weakness. Persons may later present with headache, sore throat, muscle pain, chest pain, nausea, vomiting, diarrhoea, coughs, and abdominal pain.
In severe cases, there may be bleeding from the mouth, nose, vagina or stomach. Death usually occurs within 14 days of onset in fatal cases.
There is medicine (antiviral) for treatment and more effective if taken early. There is currently no vaccine that protects against Lassa fever.
Prevention relies on promoting community hygiene to discourage rodents from entering our homes. Effective measures include storing grain and other foodstuffs in rodent-proof containers, disposing of garbage far from the home, maintaining clean households and keeping cats.