President Nana Addo Dankwa Akufo-Addo today celebrates his 75th birthday.

Born William Addo Dankwa Akufo-Addo on 29 March 1944, he is currently the President of Ghana.
Akufo-Addo plays with a toy in what appears to be his father's house

Early life and education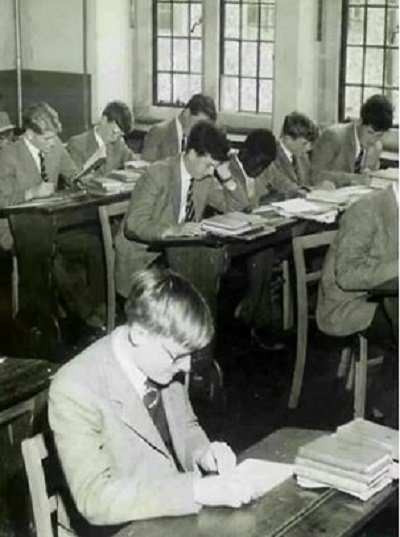 Akufo-Addo as a student at Lancing College in the UK

Nana Addo Dankwa Akufo-Addo was born in Accra, Ghana, to a prominent Ghanaian royal and political family as the son of Edward and Adeline Akufo-Addo.
His father Edward Akufo-Addo from Akropong-Akuapem was Ghana's third Chief Justice from 1966 to 1970, Chairman of the 1967–68 Constitutional Commission and the non-executive President of Ghana from 1970 till 1972.
Akufo-Addo's maternal grandfather was Nana Sir Ofori Atta, King of Akyem Abuakwa, who was a member of the Executive Council of the Governor of the Gold Coast before Ghana's independence.
He is a nephew of Kofi Asante Ofori-Atta and William Ofori Atta. His granduncle was J. B. Danquah, another member of The Big Six.
He started his primary education at the Government Boys School, Adabraka, and later at the Rowe Road School (now Kinbu), both in Accra Central. He went to England to study for his O-Level and A-Level examinations at Lancing College, Sussex, where he was nicknamed 'Billy'.
He began the Philosophy, Politics and Economics course at New College, Oxford in 1962, but left soon afterwards.
He returned to Ghana in 1962 to teach at the Accra Academy, before going to read Economics at the University of Ghana, Legon, in 1964, earning a BSc(Econ) degree in 1967. He subsequently joined Inner Temple and trained as a lawyer under the apprenticeship system known as the Inns of court, where no formal law degree was required.
He was called to the English Bar (Middle Temple) in July 1971. He was called to the Ghanaian bar in July 1975.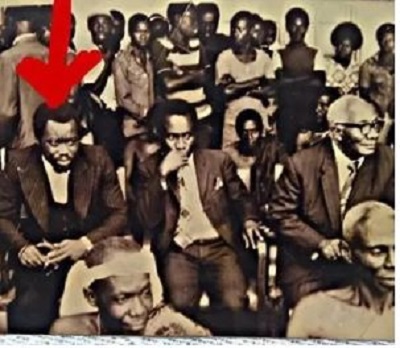 Akufo-Addo as a young lawyer

He was called to the Ghanaian bar in July 1975.Akufo-Addo worked with the Paris office of the U.S. law firm Coudert Brothers. In 1979, he co-founded the law firm Prempeh and Co.

Political life

Akufo-Addo's participation in politics began in the late 1970s when he joined the People's Movement for Freedom and Justice,an organization formed to oppose the General Acheampong-led Supreme Military Council's Union Government proposals.
In May 1995, he was among a broad group of elites who formed Alliance for Change, an alliance that organized demonstrations against neo-liberal policies such as the introduction of Value Added Tax and human rights violations of the Rawlings presidency.
The broad-based opposition alliance later collapsed as the elite leaders jostled for leadership positions.
In the 1990s, he formed a civil rights organization called Ghana's Committee on Human and People's Rights.

Presidential bids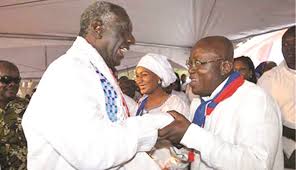 In October 1998, Akufo-Addo competed for the presidential candidacy of the NPP and lost to John Kufuor.
He became the first Attorney General and Minister for Justice of the Kufuor era, and later moved to the Ministry of Foreign Affairs and New Partnership for Africa's Development (NEPAD).
In 2008, Akufo-Addo represented NPP in a closely contested election against John Atta Mills of NDC.In the first round of voting, Akufo-Addo tallied 49.13%, leading Atta Mills with a slim margin that was below the constitutional threshold of 50% to become the outright winner.
Akufo-Addo ran again as NPP's presidential candidate in the 2012 national elections against NDC's John Mahama, successor to the late Atta Mills. Mahama was declared the winner of the election, an outcome that was legally challenged by Akufo-Addo.
In March 2014, Akufo-Addo announced his decision to seek his party's nomination for the third time ahead of the 2016 election.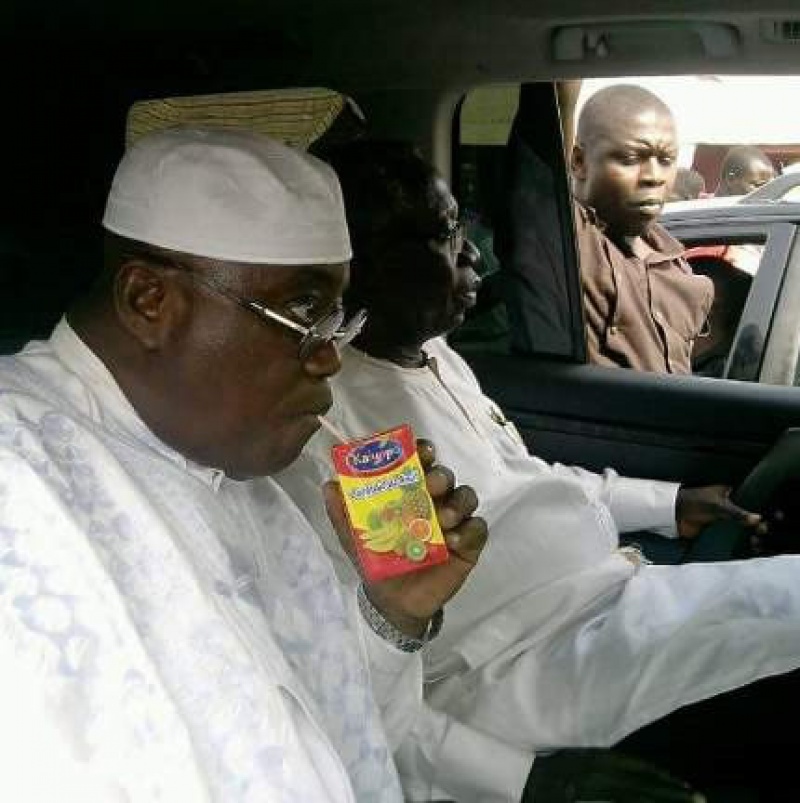 On 9 December 2016, sitting president Mahama conceded defeat to Akufo-Addo.Akufo-Addo won the election with 53.83% of the votes against Mahama's 44.4%.

President of Ghana

Akufo-Addo took office on 7 January 2017. His inauguration was held at Black Star Square in Accra.


Personal life

Akufo-Addo is from Akropong-Akuapem and Kyebi in the Eastern Region. He is married to Rebecca Akufo-Addo (née Griffiths-Randolph), the daughter of judge, Jacob Hackenburg Griffiths-Randolph, the Speaker of the Parliament of Ghana during the Third Republic.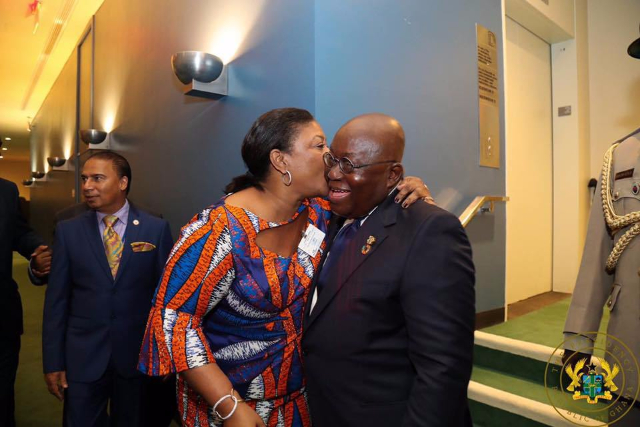 They have three daughters; Gyankroma Funmi Akufo-Addo, Edwina Nana Douka Akufo-Addo and Valerie Obaze.


Read also: Prez. Akufo-Addo jets off to US and Cuba
               Prez. Akufo-Addo defends the number of Ministers in his gov't