Ms Barbara Tobiassen, a US-based philanthropist of Zelcowa Incorporated, a Non-Governmental Organization (NGO) has funded the rehabilitation of the main school block of the Bakatsir Methodist Junior High School in Cape Coast.
The main block of the school which had developed deep cracks and was deteriorating now stands as good as a new one.
The management and staff of the school have commended her support for the renovation of the dilapidated school block.
According to  Mrs Joana Yalley Wilson, the Headteacher of the school she said Ms Tobiassen was linked to the school through an old student, Mr Arthur Dadzie.
Since then, she said, Ms Tobiassen had contributed greatly to support the rehabilitation of the school.
The PMs Tobiassen assisted in the painting of the main school block, electrification of the school building, rehabilitation of canteen, provision of uniforms for sellers and vaccination of food sellers in the school.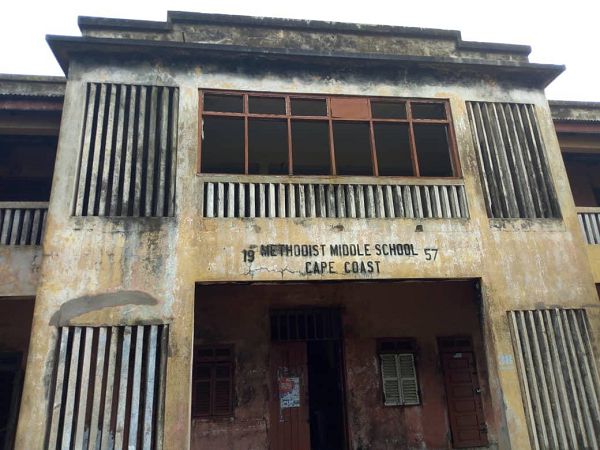 Expressing gratitude, the Headmistress of the School, Madam Joana Yalley-Wilson said the renovation of the school building would go a long way in ensuring effective teaching and learning in the school.
READ ALSO: Rehabilitation of Sekondi-Takoradi railway 85% complete
The Headmistress of the School said prior to the renovation, students and teachers were always in constant fear because of the heavy cracks in the walls of the school.
"I want to thank Ms Tobiassen for her generous support in the renovation of the school and also for how she has given the school a face lift, it would go a long way in motivating students to attend school regularly", she said.
Mrs Yalley-Wilson also appreciated the efforts of the old students of the school in ensuring that the school regained its lost glory saying "it is through the relentless efforts of the old students that we have been able to achieve what we have today".
She commended them for starting the renovation works in their own little way and urged them not to relent in their efforts in making the school great again.
The headmistress also called on other philanthropists to come support the school.