The Ghana Education Service (GES) has invited two teachers of Mankessim Senior High School in the Central Region who were caught on video molesting, tearing the school uniform of a male student and striping him half-naked in the presence of his colleagues.
The teachers are expected to report to the GES headquarters in Accra on Monday, June 11, 2018, to explain why they assaulted the student in that manner.
The video which has gone viral on social media showing two teachers molesting a male student of the school and tearing his khaki shorts in the process. The student was left humiliated with his red underwear visibly showing in full glare of his colleagues witnessing the incident.
The reasons for striping the student naked is not immediately known, but in the video, one of the teachers was heard speaking in the 'Fante' dialect, asking the student to stop misbehaving and forcibly pulling his shorts down.
The student was seen in a green shirt and khaki shorts struggling with the teachers in an attempt to prevent the teachers from stripping him naked in front of his colleagues. But the two teachers overpowered him, used a sharp object to tear his khaki shorts and left him half naked.
When Prime News Ghana intercepted the 37 seconds video, it sent it to the Central Regional Minister, Kwamena Duncan, through WhatsApp who promised to get in touch with the Mfantsiman Municipal Chief Executive, Kenneth Kelly Essuman and the Headmaster of the school, Robert Eghan, for further checks.
The Minister reverted to Prime News Ghana with feedback from the MCE confirming that the incident in the video indeed happened in the school and that the Ghana Education Service headquarters in Accra has invited the teachers involved to report on Monday to explain their conduct.
The MCE indicated to the Regional Minister that the video came to their attention the previous day and he immediately summoned the Head of the school and the Municipal Director of Education to a meeting in his office at 5:00 pm.
The MCE further stated, "We showed them the video and asked the school authorities to find the student and assist him to make a report of assault to the Police for further investigations".
"Though the school is on midterm break, the Headmaster assured us of his compliance and will report back to me. The Police Command has been informed on same", he MCE added.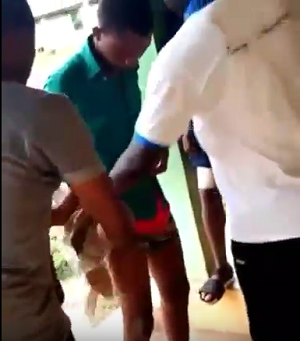 The Regional Minister told Prime News Ghana  that he would ensure that appropriate action will be taken against the teachers if they are found culpable after investigations.
The teachers are expected to report at the GES Headquarters in Accra on Monday 11th June 2018. Thanks", the Minister added.
Watch video
{youtube}
}
Latest news from Prime News Ghana