President Akufo-Addo has urged Ghanaians to accept ex-convicts and help them reintegrate into their various communities.
President Akufo-Addo said this during the graduation and commissioning of 198 career officers of the Ghana Prisons Service, GPS in Accra.
Akufo-Addo explained that although it is the responsibility of the GPS to reform and rehabilitate inmates for their reintegration into society, Ghanaians must stop stigmatizing ex-convicts.
"In as much as personnel of the Prisons Service owe it a duty to work to ensure ex-convicts are well reformed and rehabilitated back to the communities, the larger society must also prepare and take responsibility to welcome and work with them, so that they do not become repeat offenders."
READ ALSO: Akufo-Addo nominates 4 new Supreme Court judges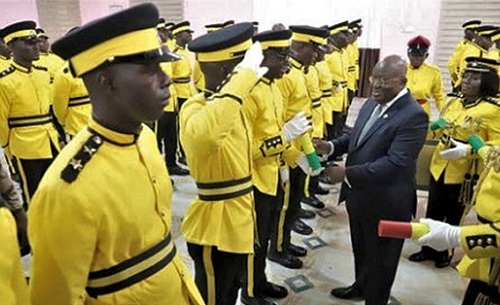 The graduands comprising 127 men and 71 women with various academic and professional backgrounds were equipped with interesting topics such as legal and policy foundation, penal, human rights and administrative laws, public sector management, stores administration, as well as prisons and prisoner management.
They were also taken through rigorous paramilitary training, physical fitness, and psychology.
The President charged the new officers to continue to uphold the ideals of the service, which he said were inculcated in them in the course of training.
"As new senior officers, you must bring meaning to your work and exhibit the competence required for good stewardship. Your call has come at a time when much is expected from the service, both in its domestic and international obligations," he said.
Present at the event were the Minister for the Interior, Ambrose Dery; the Member of Parliament for Ayawaso West Wuogon, Lydia Seyram Alhassan; the Chief Fire Officer (CFO), Julius A. Kuunuor, as well as the Director-General of GPS, Isaac K. Egyir, and other high-ranking officers of the service.