The National Security Ministry has pledged to investigate allegations that its operatives manhandled a journalist of Accra-based Citi FM on Tuesday.
In a press statement dated Thursday, May 13, 2021, the National Security Ministry said the protection of the rights and freedoms of Ghanaians remains a cornerstone to safeguarding the peace and stability of the State and hence it is committed to upholding the ethics and professional standards guiding its operational duties.
The statement signed by Chief Director, Ababio Serebour (rtd), states that the Ministry takes allegations that Caleb Kudah, and another journalist of the media house, Zoe Abu-Baidoo Addo, were manhandled by its personnel seriously.
"The Ministry has therefore initiated investigations into the said allegations. The Ministry of National Security wishes to assure the Public that appropriate actions shall be taken if the allegations are found to be true," the statement assures.
 Heavily armed operatives of the National Security agency stormed the premises of Citi FM on Tuesday, May 11, 2021, to arrest Zoe Abu-Baidoo, on grounds that the journalist had been collaborating with Caleb Kudah to secretly film abandoned vehicles at the National Security Ministry.
READ ALSO: 'I feel pain in my side, back' – Citi FM's Caleb narrates torture experience
Management of Citi FM prevented the arrest of Zoe but Caleb was arrested and interrogated for hours before being released.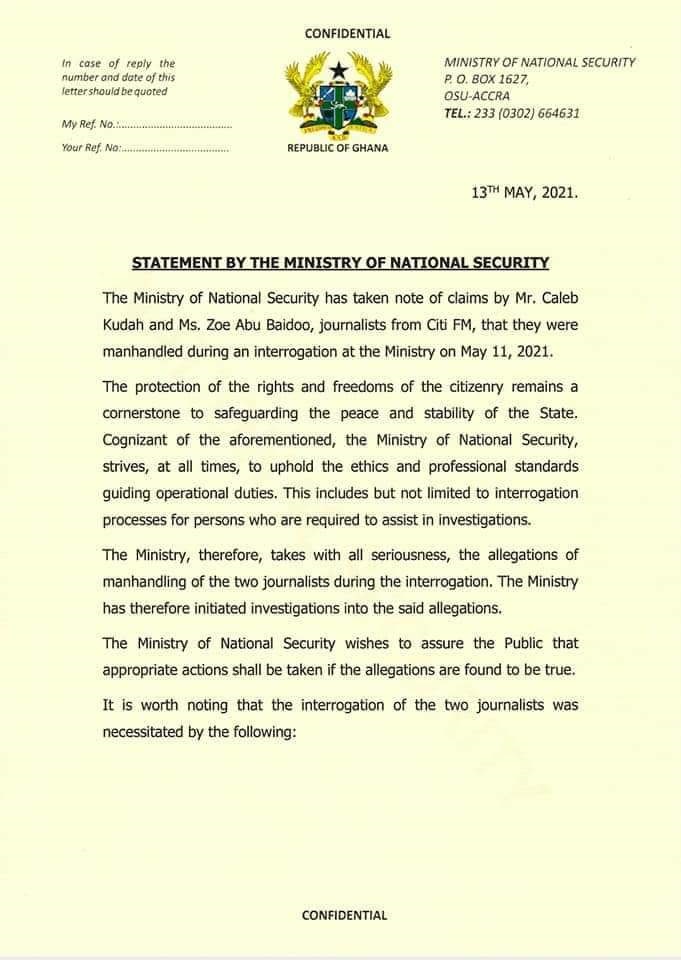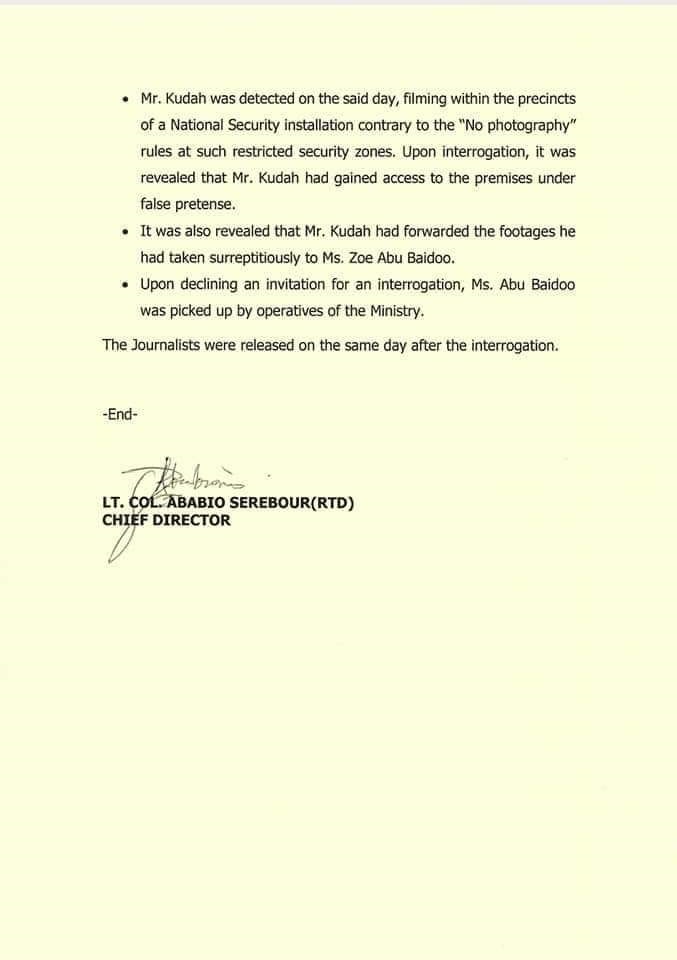 Many Ghanaians took to social media to condemn the security agency for their heavy-handedness, although a section of the public say the journalist breached the law against filming a restricted zone.
Caleb explained after his release that he had gone to the headquarters of the agency to verify a claim that some saloon cars that had earlier been left in the sun for many months have been allocated.
The cars were imported by the Microfinance and Small Loans Center (MASLOC) for distribution to drivers on hire purchase but disagreements over the hire-purchase price delayed their distribution.
Caleb Kudah had been following the story about the abandoned vehicles for two years.