Former President John Dramani Mahama has condemned the raid of SOFTtribe offices by officials from the National Security.
Mr. Mahama described the raid as 'Rambo-style' and says regardless of the disagreements that may exist between SOFTtribe and the Ghana Water Company Limited, the forceful entry into their offices by armed National Security operatives is unacceptable.
SOFTtribe the firm that was running the E-billing system for Ghana Water Company on Monday, November 25, 2019, had their offices raided and their phones were seized.
READ ALSO: A very 'powerful' person at GWCL wanted to extort money from us but we resisted - Chairman of SOFTtribe alleges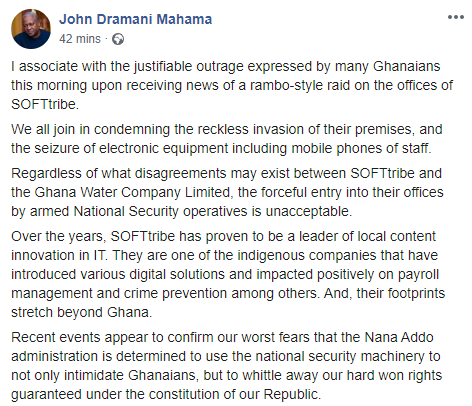 Technical Director of SOFTtribe Mr. David Bolton said the men asked for the passwords to get access to the Ghana Water Company data base which led to a bit of a heated moment.
Mr. Herman Chinery-Hesse the Chairman of SOFTtribe speaking to Joy FM today said a very 'powerful' person at the Ghana Water Company Limited (GWCL) attempted to extort money from them but they resisted.
READ ALSO: National Security officials raided our offices and seized our phones - TD of SOFTtribe
Their contract has been terminated and Mr Chinery-Hesse said they have not been given any reasons why their contract was terminated but he believes their fierce resistance to attempts by some persons within GWCL to extort money from them is the primary reason.