The National Chief Imam of Ghana, Sheikh Dr Osman Nuhu Sharubutu is 100 years today April 23, 2019.
The Chief Imam is a member of the National Peace Council. He is a national icon of peace, unity and development.
Place of birth
Referred to us the "Man of Peace" the National Chief Imam was born on  23 April 1919 at Old Fadama.
His ancestors are of pure Hausa ethnicity from Northern Nigeria. Most members of present-day Hausa communities in Ghana trace their ancestry to Hausa traders in Cola nut and livestock who established communities in Dagbon, Gonja, Nkoranza, Ashanti and other places.
His ancestors, however, were not traders. The British in the 1900 Asante War of Resistance led by Yaa Asantewaa relied heavily on local West African soldiers to fight on their behalf. Hausa and Senegalese fighters were recruited to hunt and confiscate the Golden Stool of the Ashanti people.
After the war the Senegalese soldiers settled in Cape Coast whiles the Hausa soldiers settled around 37 Military Hospital area. Osman Nuhu Sharubutu was born to members of such a community.
He studied under his father, the late Sheikh Nuhu Bin Mohammed Sharabutu, his mother, late Ayishatu Abbas (Mma Tasidi) and his uncle, the late Sheikh Mazanwaje Abbas, who was the leader of the Tijaniyyah Movement of Ghana at the time. His parents taught him Quranic recitation and Tajweed as well as essay writing in Arabic.
Mma Tasidi contributed immensely to the moral and psychological development of her son by ensuring that he had the proper Islamic upbringing to go side with Islamic Education so that he grew up to be a truly Islamic Model and a Unique Islamic heavyweight in knowledge and wisdom worthy of emulation.

Since his childhood days, he rarely had time to play because he was completely devoted to his books, which helped him tremendously to commit to memory various Al-hadiths of the Holy Prophet, Islamic texts, Islamic Jurisprudence and Islamic literature.

Furthermore, to better equip young Osman with his onerous tasks ahead, and to shoulder future challenges and responsibilities, Sheikh Nuhu Bin Mohammed Sharabutu organized night classes for his son.
He exposed his young son to the complexities of Arabic Morphology (Sarf) and Logic in Islamic philosophy to enable him to fully comprehend the highly advanced texts and Rhetoric in his future studies.

By the age of twelve, Osmanu had mastered the recitation of the whole of the Holy Qur'an and had become one of the youngest Huffaz at the time to have memorized numerous verses and Suras (chapters) of it.
When his father, Sheikh Nuhu, realized the potentials of his son, he decided to send him to a new learning environment in Kumasi where he studied under Sheikh Abdoullah Dan Tano among other prominent scholars.

Mallam Ousman became a completely changed and reformed personality upon return from Kumasi, due to deep knowledge he acquired outside his original environment.
After careful contemplation, he made the decision to devote his time to teaching the Muslim youth who are keen on learning to become Islamic Scholars, thinkers and Sheikhs in future.
Among his students are Sheikh Yahya El-Ameen, Mallam Adam Attah, Mallam Saeed, Alhadji Jibril Madaha, Mallam Ibrahima Nyass, Mohammed Muniru "Dan Alfah" and Mallam Zurkanain. the late Sheikh Alhadji Haroun Rasheed was his contemporary.

He remained in the teaching profession for a number of years. Due to his keen love for knowledge, anytime he heard of an Islamic Sheikh, he rushed to him as a student in order to learn and benefit from that scholar.
Notable scholars whom he conferred within that regard include Sheikh Abubakar Fulaaty Al Kanawy from Northern Nigeria and Sheikh Alhadi (Baraw). Sheikh Baraw taught him interpretation of the Holy Quran, Classical Arabic Language, Literature and Texts whiles Sheikh Abubakar Fulaaty Al Kanawy enlightened him on Arabic Culture, Al-Hadith of the Holy Prophet, Arabic Texts and Fundamentals of Sufism.

His maternal uncle, Sheikh Muhammad Mazawaje Abbas who was then Imam of Tijaniyya in Ghana, saw the devotion, interest and hard work in Osman and introduced him to Tijaniyya special programmes for meditation.
He readily embraced Sufism and continued working hard with the Sufi movement until he met with the supreme commander of the Tijaniyya Sufi order of the 20th century, Grand Sheikh Alhadji Ibrahim Nyass from Kaolack in Sénégal when first Ghanaian president Kwame Nkrumah invited him for a friendly visit to the country.

Sheikh Ibrahim thought Mr Osmanu the deeper spiritual aspects of Sufi practices, the secret techniques and the rudiments of mysticism as well as other esoteric features of it.
These exposures smoothly paved the way for young Osman to become a true leader in the Tijaniyya Sufi Movement in Ghana.
As a deputy deputy Imam of Tijaniyya in Ghana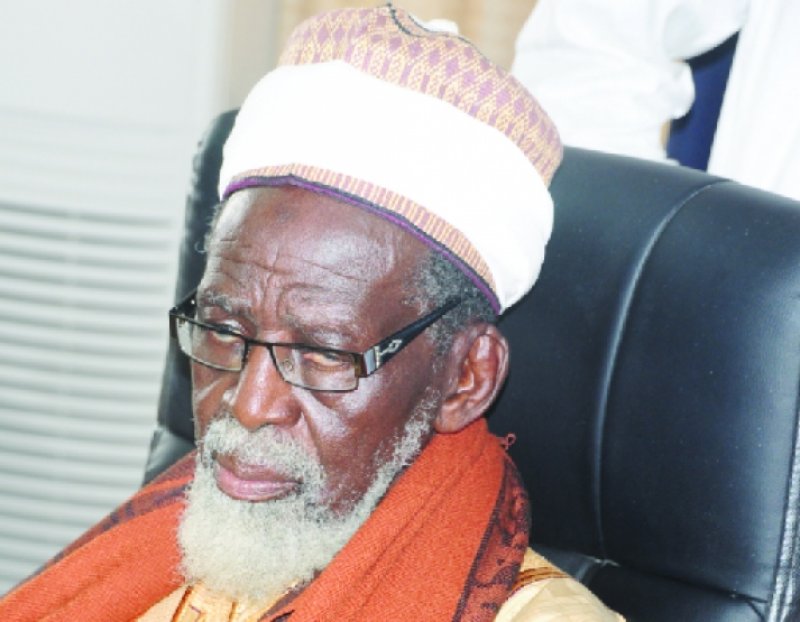 In 1974, after lengthy debates and consultations among the country`s traditional Muslims (Tijaniyyas) and concerned parties, it was agreed by consensus that Sheikh Osmanu Nuhu Sharubutu should be appointed to deputy Imam of Tijaniyya in Ghana.
However, Sheikh Osman turned down the offer of appointment with the excuse that he was a professional Islamic teacher and educator with over 20 students under his care at the time and he was concerned about their future growth and development.
It was later and after further persuasions and persistence by the Islamic teachers that Sheikh Osmanu realized that the appointment was a divine call for him to serve Islam and the Muslim communities. In 1993, he succeeded his cousin, Sheikh Mukhtar Abbas who was ill and physically weak as head of Tijaniyya Muslims in Ghana.
 
As National Chief Imam
The office of National Chief Imam of Ghana gained presidential approval backed by Government policy in 1992.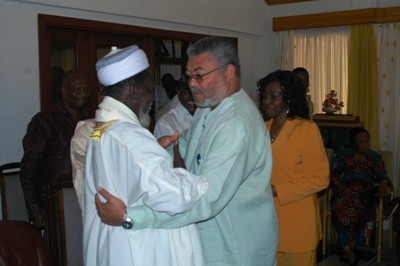 Chief Imam with Ex-President Jerry John Rawlings
The national chief imam would be the spiritual guide and mouthpiece of all Muslims in Ghana. Such a leader, required by the policy, must be agreed upon by a committee of all interested parties and that the office would rotate among heads of the various Islamic sects with significant representation in the country namely; Ahlus Sunnah wal Jamaaha, Tijaniyyah, Ahmadi and Shia respectively.

Sheikh Osman was appointed by the committee and approved by the government in 1993 to occupy the newly created office as the first National Chief Imam of the Republic of Ghana and invested at a simple but colourful ceremony.

Throughout his life, Sheikh Osman has had a reputation for promoting Islamic education and encouraging the establishment of formal educational institutions.

There are seven educational institutions in the Greater Accra Region which have been established and owned by Sheikh Osmanu himself and managed by various individuals. He undertakes some teaching assignments at the institutions. He has, upon assumption of office, pioneered the establishment of 10 other educational institutions in all ten regions of the country.

He has built many Arabic Schools, Islamic Centers and Mosques. He spends huge sums of money organizing conferences, seminars and symposia on thorny Islamic issues prevailing in the Islamic societies and the country as a whole.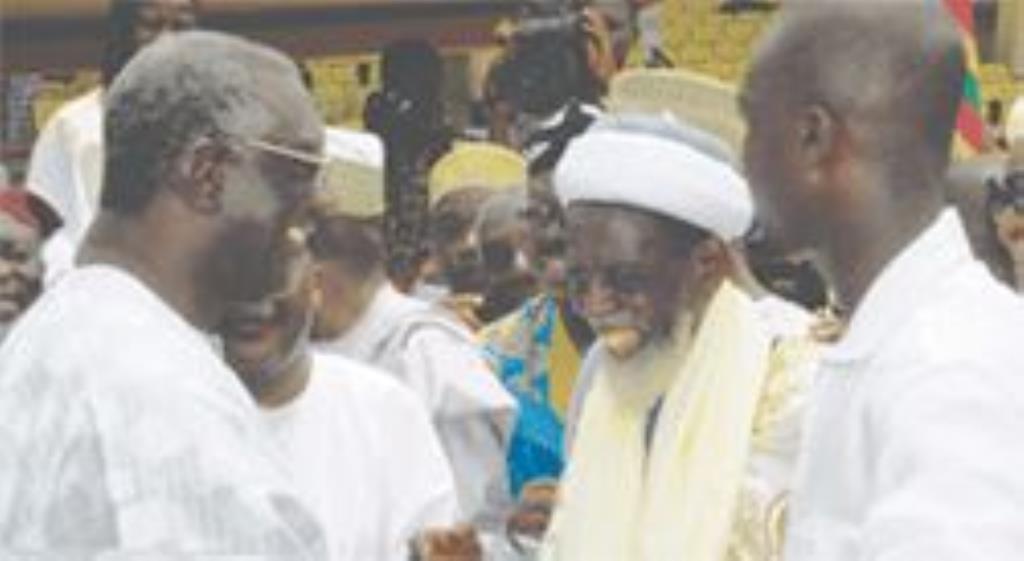 Chief Imam with Ex-President John Agyakum Kufuor

He has undertaken a number of official state visits to connect with Ghanaian communities in the diaspora. On all occasions, he emphasizes the need for Ghanaians in the diaspora to live exemplary lives and abide by the rules of their host countries in order to portray a positive image for their home country.

He is responsible for the realization of two national holidays in the official calendar of the Republic of Ghana; Eid al-Adha and Eid al-Fitr.

Furthermore, Sheikh Osmanu has been involved in the establishment of institutions and organizations for providing services that address the humanitarian needs and empowerment of the Muslim youth in and outside Ghana.

He set up and presently (January 2014) chairs the ISLAMIC PEACE AND SECURITY COUNCIL (IPASEC). The council is mandated to devise, adopt, run and implement projects and policy initiatives on peace and security within the Muslim and Zongo Communities in Ghana.
It collaborates with law and security enforcement agencies in the country to help sustain and maintain the peaceful ambience that Ghanaians enjoy. IPASEC operates on a low profile within the Muslim populated areas in Ghana due to its mandate and intended operational activities.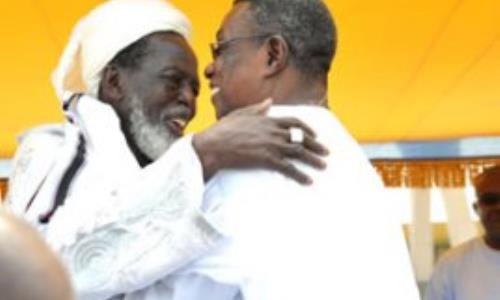 Chief Imam with late President John Evans Atta-Mills

It reports its activities to the Inspector General of Police of the Ghana Police Service and copy the National Security Coordinator quarterly under the authority and recommendations of the National Chief Imam.

In 2002, he foundered The Sheikh Osman Nuhu Sharubutu Education Trust Fund (SONSETFUND); a Non-governmental organization committed to supporting education in deprived communities in Ghana.
The Sonsetfund provides support for individuals at different levels as well as supporting the youth in literacy and skills training to attain Higher Education.
Sheikh Osman believes that a mind is a terrible thing to waste and is noted to have said that "Human beings have the choice over everything except two things, they cannot choose.
The choice of parents and the geographical location they were born. Some People have been born to very poor, illiterate parents in very deprived communities of Ghana. The child born into ignorance, illiteracy and poverty gives that innocent child a negative perception and mental attitude in life. The child grows as an offspring and a by-product of his negative environment".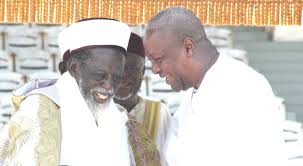 Chief Imam with former President John Dramani Mahama

With Sonsetfund therefore, he seeks to provide opportunities for these deprived communities and instil in these individuals a sense of hope. The fund provides scholarships and has sponsored hundreds of needy children mostly from the disadvantaged and vulnerable Muslim and non-Muslim communities in Ghana.
He established an orphanage centre to look after the education and welfare of homeless Muslim kids in Ghana; the Nuuru Usmaniya Foundation for Humanitarian Services and Development (NUSMA)

Sheikh Osmanu today, is the representative of the Muslim face in national affairs and continues to support development programmes that sensitize people to their social responsibilities and build bridges between Islam and other religions. The result is that he is a member of the National Peace Council of Ghana.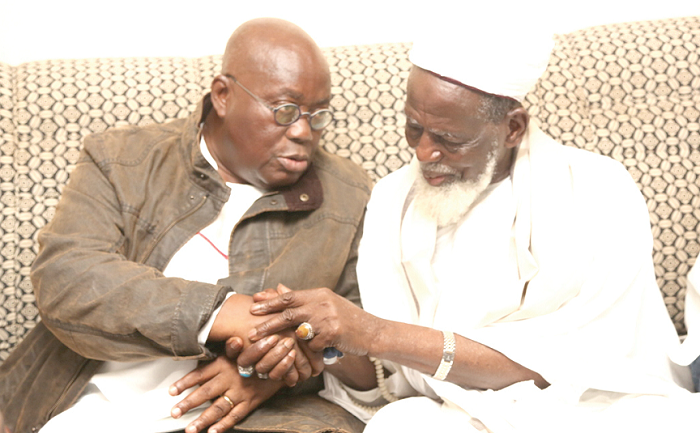 Chief Imam with President Akufo-Addo
He is well known for his exemplary lifestyle and generosity to people who face him with their personal problems. Dr. Sheikh Osmanu Nuhu Sharubutu comes from a pedigree of Islamic Scholars and leaders. He has continued with this heritage and has, in the process, distinguished himself as a great Islamic leader. He has been engaged in promoting Muslim education, setting up various Islamic schools and encouraging the integration of Islamic knowledge and practice with secular education.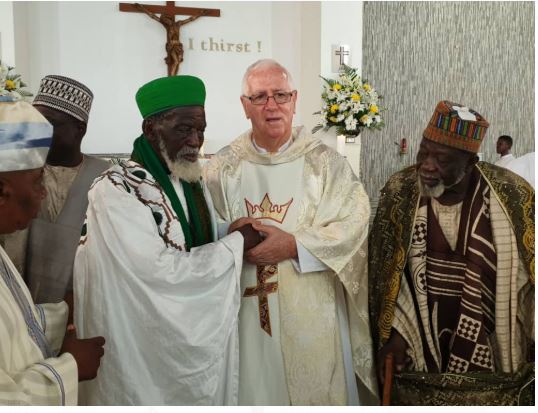 Chief Imam with Parish Priest of Christ the King Catholic Church Father Campbell

He has personally sponsored hundreds of needy Muslim children mostly from the disadvantaged and vulnerable Muslim communities in Ghana.

He was awarded an honorary doctorate degree in 2013 by the University of Ghana for his wondrous contribution to public service and his immense contribution at maintaining peace and development in Ghana.
Read also:
Visit primenewsghana.com for more Ghana News