The National Chief Imam of Ghana, Sheikh Dr. Osman Nuhu Sharubutu who will turn 100 on Tuesday, 23rd April 2019 joined Christians on Easter Sunday at church.
The Chief Imam was at the Christ the King Catholic Church Accra.
In his message to the world, he said Christians and Muslims must continue to unite for a common goal. He spoke about the peace we are celebrating and extended it to the rest of the world to unite and serve God as our Holy Father.
The Chief Imam was received by Fr. Andrew Nii Lante Campbell and the entire parishioners of Christ the King Catholic church as they presented to him with a bouquet of flowers and other gifts. The chief Imam thanked the church as he presented a token to the church.
Sheikh Dr Osmanu Nuhu Sharubutu (born April 23, 1919) is an Islamic cleric, Chief Imam of Ghana, grand Khalifa of Sheikh Ibrahim Niass in Ghana, member of the National Peace Council and founder of The SONSETFund and IPASEC.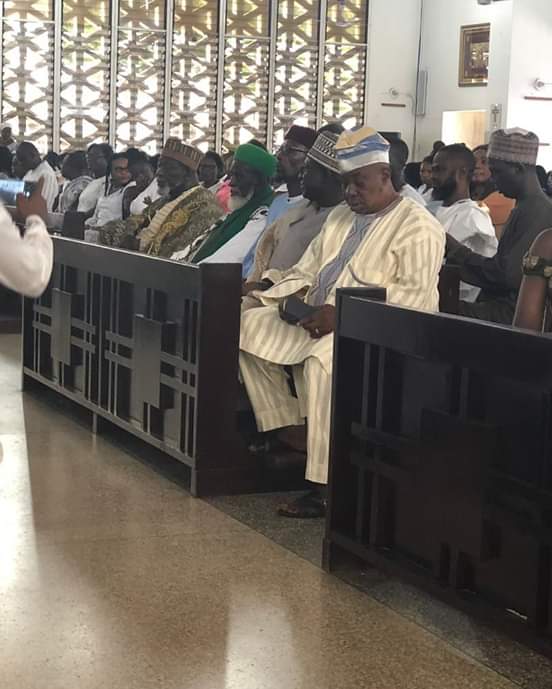 Sheikh Dr Osmanu Nuhu Sharubutu was appointed Chief Imam in 1988.
The critical contribution of Sheikh Sharubutu to the institution of the National Chief Imamship was to revolutionize and make it acceptable to Ghanaians. He brought to its charisma, leadership, respect and drive, that have never be known in Imamship in Ghana. He made it the centrepiece of recognition of Islam and Ghana Muslims not only in Ghana but all over the world.
To consolidate the institution, Chief Imam, on his own and with his own resources organize the first conference of Regional Chief Imams, which meet annually on a rotational basis to discuss matters of mutual interest. This action brought solidarity and understanding among the Regional Chief Imams and greater respect for the Sheikh.
Read also:
For today's Headlines visit primenewsghana.com